Making the most of the cloud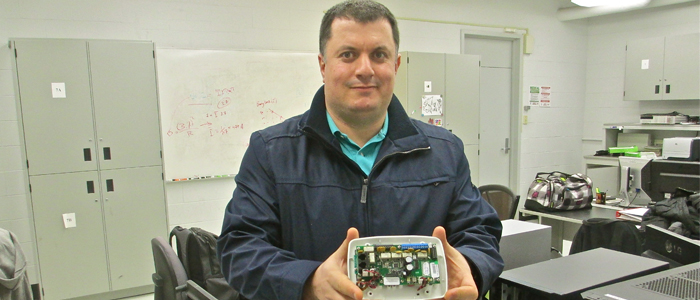 Western Engineering News | March 31, 2015
By Jason Teakle
Opening the market to tech start-ups in a sector currently controlled by a handful of networking equipment companies – which offer pre-set communications infrastructure bundles needed by telecommunications corporations to operate their cellular and mobile data services – is the key focus of an ongoing research project at Western Engineering.
Abdallah Shami, a professor in the Department of Electrical and Computer Engineering, is working to open up the market to small tech start-up businesses, which offer innovative software solutions for the telecommunications sector through a cloud-based platform – but are being squeezed out of the market by networking equipment giants.
Shami plans to develop a software platform that will be utilized by a variety of software solutions designed by different parties and available in the cloud as on-demand services. This would allow telecommunications companies to choose which software they need – and when they need it – to offer their services, rather than being forced to purchase proprietary hardware and software bundles.
Software available in the cloud would provide soft-computing networking functions known as virtualized network functions while maintaining the interoperability with the existing legacy networking hardware infrastructure, which is present in telecommunications companies' networks.
"In the cloud, we will have more control because of various computing resources delivery models it provides," Shami explained. "Instead of putting all the network functionalities on one piece of hardware, that is almost idle most of the time, the cloud will allow for shared resources with different cloud applications, which allow better resource utilization, reduce energy consumption, and provide cost-efficient services."
The research is expected to open the networking equipment market to increased competition, while bringing down the cost of hardware and software needed by telecommunications companies.
"This will offer more options and software from different companies – and they will run on the same general purpose computing hardware, waiving the dependencies on propriety solutions," Shami explained. "There will be newcomers to the market that can offer special, specific network functionalities in the cloud.
"We need to have a network function virtualization platform that allows for separation between hardware and software, and to pave the way for migrating these functions to a cloud-based platform."
The possibilities are endless for small, technology start-up companies to break into a market that is currently controlled by only the big players, he said.
"There will be lots of opportunities to develop software solutions that can run on general purpose computing hardware, known as commercial off-the-shelf hardware, so telecommunications companies won't be locked in to using one company's hardware," Shami said.
The project, funded by NSERC, Mitacs, Ericsson Canada, will take about three years to complete at a total cost of about $600,000.
The research will secure increased efficiency and provide ground breaking, new ways for telecommunications companies to offer their services to clients.
"The project is about creating a platform to achieve high efficiency in terms of cost and energy savings without sacrificing the carrier-grade requirements such as high availability, performance, and reliability," Shami said. "This is revolutionary network communication."