Engineering students apply their education to real-life issues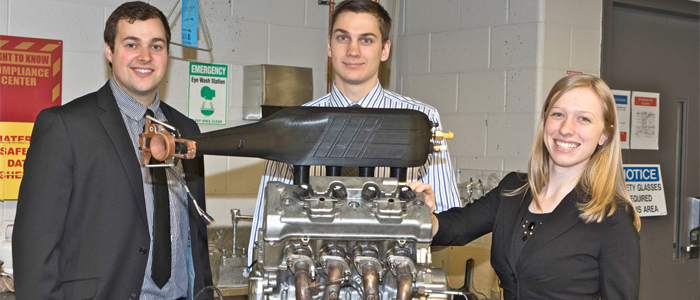 Western Engineering News | April 17, 2015
By Jason Teakle
Students across Western Engineering capped their final year by completing their fourth-year capstone design projects to showcase their innovative and impactful engineering design work.
"Through participation in capstone design projects, Western Engineering students have the opportunity to apply their engineering education to real-life issues," said Associate Dean, Academic, Michael Bartlett. "Design projects allow students to develop crucial engineering skills, including teamwork, problem-solving and the implementation of creative design solutions – and the experience of showcasing their solutions to their peers and the public."
Fourth-year Civil and Environmental Engineering students worked in groups to develop real engineering project proposals on behalf of the City of London. Projects included a tridge – a three-way bridge – at the forks of the Thames River, an Adelaide Street overpass over the CN tracks, a pedestrian bridge over the CN tracks at Kiwanis Park, and a flood control project proposed for Greenway Pollution Control.
On March 6 the students presented their proposals at the 19th Annual City of London Design Competition. Judges included representatives from AECOM, R.V. Anderson Associates Limited, Zelinka Priamo Limited, FACCA Inc., McLean Taylor/Stone Town Construction Limited and VanBoxmeer & Stranges Limited.
Below are the results for the 2015 City of London Design Competition:
First-place prize of $1,000:
• Saunby Consulting: Sophie Warwick, Harrison Formann, Blair Hiseler, Cody Slumskie and Kevin Flanagan
• Coyote Consultants Limited: Laine Juergens, Ping Jung, Amy Hsieh, Jessica Girling, Kathryn Kim and Roy Vanstone
Second-place prize of $875:
• REACT Design Solutions Inc.: Benjamin Hyland, Emilio Hong, Cory Gray, Andrew Karakatsanis and Timothy Leung
• Full House Engineering: Victor Lee, Michael Fairbairn, Brittany Bryans, Connell Miller and Lydia C. Fisher
Mechanical and Materials Engineering students participated in the MME Design Day Competition on March 20 in the Claudette MacKay-Lassonde Pavilion. The competition saw three teams tie for the top spot with their dynamic engineering projects:
• Aerodynamic optimization of Western Formula Racing vehicle – Graham Griffin, Arun Ravi Shankar, Geoffrey Hockin and Matthew Crossan
• Apparatus for oil flow measurements of air-oil two phase flows in a bearing test rig – Darren Brix, Spencer Hoernke, Matthew Mahaffy and Julia Tsaltas
• Western Formula Racing engine package optimization – Patrick Mecan, Adam Wiggers and Allison Waters
More than 60 students on 16 teams from Chemical and Biochemical Engineering and Green Process Engineering participated in the 10th Annual Capstone Competition, held on March 20 at the Western Sarnia-Lambton Research Park in Sarnia. Students presented their projects in three categories, including Chemical and Biochemical Processes, Energy and Fuels and Environmental and Waste Treatment. The winning groups are as follows:
Chemical and Biochemical Processes
First Place: Production of polymer grade lactic acid from corn feedstock
(Michelle Anne Bashaw, Meaghann Susan Buitinga, Shivani Chotalia and Michael O'Brien)
Second Place: High severity fluid catalytic cracking
(Sharon Flaherty, Nathan Brown and Mack Atkinson)

Energy and Fuels
First Place: Gas to liquid via low-temperature Fischer-Tropsch with cobalt catalyst
(Chad Gray, Mike Wood, Colin Gunn, Mario Naric, Rheece De Veyra)
Second Place: Fast pyrolysis bio-oil upgrading via hyrdodeoxygenation
(Douglas Todd Brennand, Aidan Connor Brookson, Andrew Shier and Jaime Ward)
Environmental and Waste Treatment
First Place: Wastewater treatment of oil sands tailing water
(Jessica Godin, Tamara Abu-Abed and Kara Terpstra)
Second Place: Supercritical water gasification of sewage sludge
(Aaron Kennedy Baechler, Rabaab Kaur Chugh, Mitchell Leslie Elver House and Michael John Nelson)
In Electrical and Computer Engineering, fourth-year students used their integrated knowledge from many courses to develop their final design projects. Topics were determined with assistance from faculty advisors, companies, and some students proposed their own design ideas. Areas of study included power systems, wireless communication, controls, microelectronics and robotics. In most cases, projects involved a device that required fabrication and testing.
Electrical and Computer Engineering will also hold a Grad Symposium, May 12-13 in SEB 1200 and 2200.