El Naggar recognized for excellence in research and development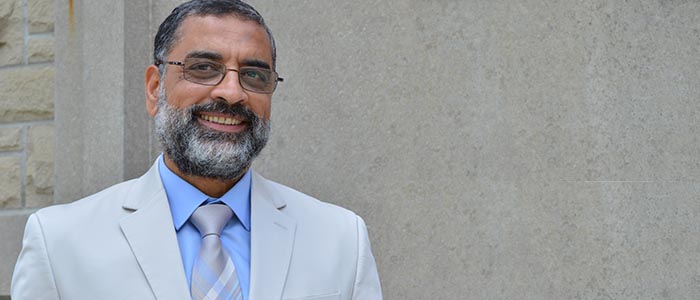 Western Engineering News | July 15, 2015
For more than 10 years, Hesham El Naggar has provided strategic direction for research initiatives in the Faculty of Engineering and the Geotechnical Research Centre at Western University.
He is a well-known researcher in the international geotechnical engineering community – contributing to various research journals; teaching professional development courses and workshops across North America; and providing consulting services around the world.
The Ontario Society of Professional Engineers (OPSE) and Professional Engineers Ontario (PEO) have recognized El Naggar's hard work and dedication to the engineering profession with the 2015 Ontario Professional Engineers Awards (OPEA) Engineering Medal: Research and Development .
"Dr. El Naggar is a very worthy candidate of this award," said Andrew Hrymak, Dean of Western Engineering. "He is a leader within our faculty and the engineering profession as a whole."
Throughout his tenure as Associate Dean (Research), El Naggar has worked with the faculty's senior leadership team to address complex global issues by developing interdisciplinary and collaborative research areas of strength within the faculty.
"He is also an advocate for partnering with industry to improve the needs of society," said Hrymak.
As a research director at Western's Geotechnical Research Centre and professor of Civil and Environmental Engineering, El Naggar has more than 30 years experience in analysis and design of foundations and soil-structure interaction.
Throughout his research, El Naggar has developed new approaches and innovative solutions for foundation problems. He is a co-author for the computer program DYNA6.1, which is used worldwide for the design of machine foundations. He has also delivered more than 40 short courses on the design of machine foundations to more than 1,000 Canadian and international practicing engineers.
"Dr. El Naggar is setting the foundation for new best practices in the field of geotechnical engineering," said Ashraf El Damatty, Chair or Western's Department of Civil and Environmental Engineering. "It is wonderful to see his contributions recognized by his colleagues and peers."
El Naggar will receive his award at the Annual OPEA Gala on Saturday, Nov. 21 at the International Centre in Toronto.
Since 1947, the OPEAs have recognized professional engineers in Ontario who have made outstanding contributions to their profession and community. This annual gala brings innovators, business leaders and policy makers together to celebrate and be inspired by engineering excellence and achievement.