Discovery Western receives $76,500 in PromoScience federal funding to expand outreach programs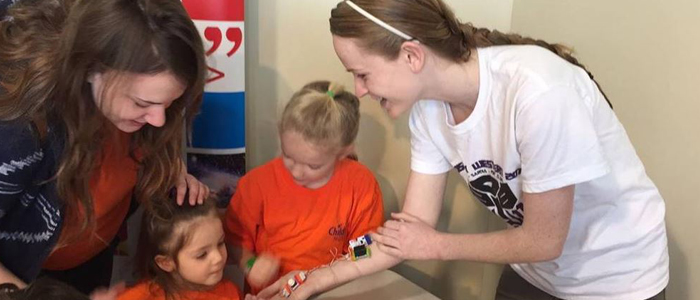 Western Engineering News | March 19, 2015
By Jason Teakle
Western Engineering will be able to expand its outreach programs designed to increase interest in STEM-related careers among female elementary and high school students, following the announcement of a recent investment by the federal government.
Discovery Western, an organization run from the Faculty of Engineering, seeks to increase interest in science and engineering to young people through interactive programs, has received $76,500 in federal funding through PromoScience, – a program managed by the Natural Sciences and Engineering Research Council (NSERC) – which offers financial support to a wide variety of organizations that motivate youth to take an interest in science, technology, engineering and mathematics.
The funding was announced during a media conference on Tuesday morning, where Ed Holder, minister of state, science and technology, and MP for London-West, joined Susan Truppe, parliamentary secretary to the minister for the status of women and MP for London North Centre, to announce a total of $3.6 million in funding to support 66 organizations across Canada in 2015, and to increase support for science promotion activities to $10.9 million per year.
Joanne Colling, outreach programs coordinator with Western Engineering, said the support through PromoScience will allow Discovery Western to reach more female students to expose them to the many careers available in the dynamic field of engineering.
"Through this funding, Discovery Western will be able to expand programs that reach elementary and high school girls in STEM, specifically in Engineering, through programs that provide authentic and meaningful interactions with female role-models in Engineering fields," explained Colling.
The federal government knows that increasing interest in STEM-related careers and providing students with the tools needed to succeed in these fields is critical, said Truppe.
"Our government understands that Canadian businesses, universities and colleges require young Canadians with strong skill sets in sciences, technology, engineering and mathematics to be successful going forward. Through PromoScience, we are supporting three London-based organizations to develop science camps and activities providing young Londoners with the opportunity to develop a passion for the sciences that can lead to fulfilling, high-paying jobs later on in life," said Truppe.
B. Mario Pinto, president, NSERC, said elementary and high school students gaining science literacy is key to providing the atmosphere for continued innovation and research breakthroughs in science and engineering.
"Science literacy is an essential part of the education of every citizen in the modern world today," explained Pinto. "PromoScience aims first to spark the passion of students for science and engineering and further boosts scholarly inquiry for the future of these fields."