CASI recognizes Floryan for contributions to aerospace industry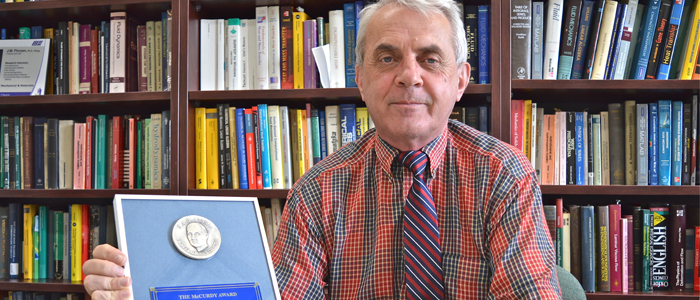 Western Engineering News | May 26, 2015

By Jason Teakle
What do J.M. Floryan, Western Engineering's department chair of Mechanical and Materials Engineering, and Chris Hadfield have in common? They both shared the stage at the Canadian Aeronautics and Space Institute (CASI) Aero 2015 Conference.
The CASI Senior Awards Committee recently selected Floryan as the recipient of the 2015 CASI McCurdy Award for his long-term commitment to research in the aerospace sector. Floryan received the award during the CASI AERO 2015 Conference and Annual General Meeting at the Fairmont Queen Elizabeth Hotel in Montreal from May 19-21.
"I was very honoured," said Floryan. "The work I have done to develop drag-reducing techniques to improve fuel efficiency and decrease pollution associated with the aerospace sector is being acknowledged by my peers."
Floryan further explained that the benefits of drag-reduction techniques save airlines money and help cut the environmental impacts of aviation.
"Drag reduction of less than one per cent allows for roughly $2 million in fuel savings per plane – each year."
The McCurdy Award has been created in 1954. It commemorates the engineering and other contributions made by John A.D. McCurdy during the first development stages of the North American aviation industry. The McCurdy Award is presented for outstanding achievement in the advancement of science and technology in aeronautics and space exploration.
Visit www.casi.ca for more information on CASI.