Bruce Ross delivers RBC TechTalk during visit to Western Engineering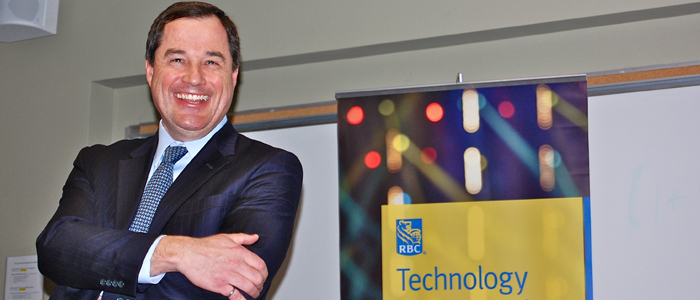 Western Engineering News | March 9, 2015

By Jason Teakle
Bruce Ross, (BESc'85), keeps his hands on the steering wheel to navigate the challenging seas of technological innovation at RBC – as one of eight executives who set the strategic direction of Canada's most profitable financial institution.
Ross, Group Head, Technology & Operations with RBC and Western Engineering alumnus, presented a TechTalk titled: "Technology-Led Innovation" during a visit to campus on March 3 – which also included sessions for students to have their résumés and digital presences reviewed by RBC Campus Recruitment staff. Ross addressed how RBC is staying on top of technological advances in the banking and financial services sector.
"We process 380 million transactions per day at RBC," Ross said. "That allows us to come to work every day, but one of the big jobs I have is leading the innovative change of disruptive business models.
"There are lots of things happening in the marketplace that we look at and decide how we are going to compete."
Competing in a global marketplace is an ongoing, daily challenge at RBC – a corporation with 80,000 employees with operations in 46 countries.
"We have to build and deploy new software every day – just like Google and Facebook – to provide new capabilities, because technology is at the centre of RBC's future."
Western Engineering Dean Andrew Hrymak thanked Ross for sharing his business and technological knowledge with Engineering students.
"We are very pleased to have Bruce Ross back at Western – his alma mater – to share his experiences and discuss the latest trends in RBC's Technology and Operations area," Hrymak said.
At RBC, staying in step with technology is about improving the client experience – one step ahead of the competition.
"It's about (RBC) bringing proactive propositions to the client – not reactive ones," explained Ross. "Change is enabled by big data and cognitive computing, mobile service, social media and allowing the client to access their accounts anywhere, anytime to provide the best banking experience we can."
Social media has played a key role in technological innovation at RBC, as it allows the corporation to keep its ear to the ground more efficiently than ever before.
"We look at sentiment on social media to see how people feel," he explained. "It also provides a way for us to receive instant feedback and have constant connectedness."
Though technological innovation is critically important, Ross said RBC focuses on winning buy-in from its stakeholders on any new project.
"We are focused on many exciting technological things, but it all comes back to exciting our people and serving our clients," he said. "In business, we have to look at how technology can disrupt our business model – rather than an incremental progression of change."
Ross shared some perspective with Western Engineering students from his standpoint during his TechTalk.
"I'm envious of you because you're in engineering school, about to begin your careers, during a time when technology and business strategies are combined," Ross explained. "Now, technology and business aren't just intertwined – it is a symbiotic relationship – and that creates huge opportunities."