Big win for Western students at the 2015 PCI Big Beam Competition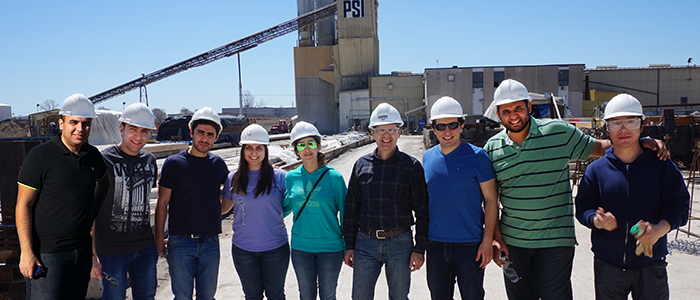 Western Engineering News | August 26, 2015
A team of Western Engineering students saw big results at the 2015 PCI Big Beam Competition.
The student team - consisting of Reem Tabbara, Ahmed Mansour Ibrahim, Ahmed Elshaer, Jad Atwe, Dana Elfar, Boqiang Zhu, Erdal Celap, Mohamed Mansour, Moustafa Aboutabikh, and Aiham Adawi - placed eighth overall and won first place for their video submission.
"It was another exciting year for Western's Big Beam team," said Aiham Adawi, team member and Civil Engineering PhD candidate. "I have been a member of Western's team for four years now. Each year, we improve our entry based on experiences from our previous competitions. I believe this competition is a great opportunity for us to improve our critical thinking skills and gain hands-on experience in various aspects of structural engineering."
Supervised by Civil and Environmental Engineering professor Maged Youssef, this is the 12th year Western has competed in the competition.
"The big beam contest allows students to apply classroom knowledge to design, construct, analyze and test a prestressed concrete beam," explained Youssef. "The design process allows them to learn new concepts and enhance their skills in analysis, design, investigation, team work, professionalism, communication and lifelong learning."
For the competition, teams must work with a PCI producer member. Prestressed Systems Inc. of Windsor, Ont. sponsored the Western Engineering team. They were available to the team to provide advice and expertise. They also provided all materials, beam fabrication and beam transportation.
"We are very grateful to Prestressed Systems for their support over the years," said Adawi. "We couldn't compete without them."
In addition to written reports - which must include a summary of the structural design, load/mid-span deflection graphs, calculations, and drawings of the cross section(s) and elevation of the beam to show reinforcement – the teams must also produce a video showing the highlights of the test and the failure for verification.
For the video, teams are encouraged to be as creative as possible. Western's team did not disappoint. Their 11-minute video shows their structural design through a comedic storyline. Watch the video online here.