Behnad honoured for going the extra mile as postdoctoral fellow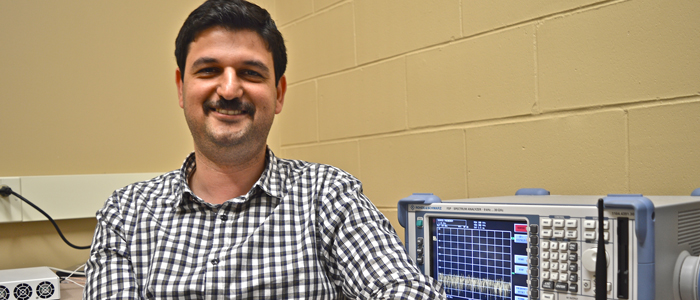 Western Engineering News | May 19, 2015
By Jason Teakle

A successful postdoctoral fellow at Western Engineering has received a prestigious honour from Western's School of Graduate and Postdoctoral Studies.
Electrical and Computer Engineering's (ECE) Dr. Aydin Behnad is the recipient of the 2015 Postdoctoral Fellow of the Year Award.
"I was shocked and it was unexpected," said Behnad. "Western has so many active departments with highly-productive researchers across campus."
The Postdoctoral Fellow of the Year Award is presented to a postdoctoral fellow who has shown exceptional commitment and potential as an emerging scientist. The awardees should stand out among his peers for excellence displayed in research, leadership, service, outreach and teaching. Behnad was presented with the award at the Research Forum on May 7.
ECE Professor Xianbin Wang has much praise for Behnad's contributions to research conducted on a broad range of wireless communications systems in the department's laboratories.
"Aydin's achievement is based on engineering problem-solving through new theory development, system design, optimization, validation, and prototyping," said Wang. "The postdoctoral award to Aydin will inspire other graduate students and postdocs to conduct more productive research and collaborations, which will directly benefit Western University by realizing its strategic plan as a world leading research intensive university."
After joining Wang's research group in August 2013, Behnad supervises two PhDs and two Masters students. His research group stays busy, as there is much work to be done to handle a 60 per cent annual increase in worldwide web traffic, as more people across the globe gain access to the Internet.
"Our current infrastructure would not be able to handle such increases," explained Behnad. "We are developing new methods and technologies to increase the capacity of our worldwide communications network infrastructure to handle major increases in video streaming, gaming and social media platforms."
Behnad has nine research journal papers and three conference papers published alongside Wang and his research group.