Xu turning forestry and agricultural 'waste' into useable products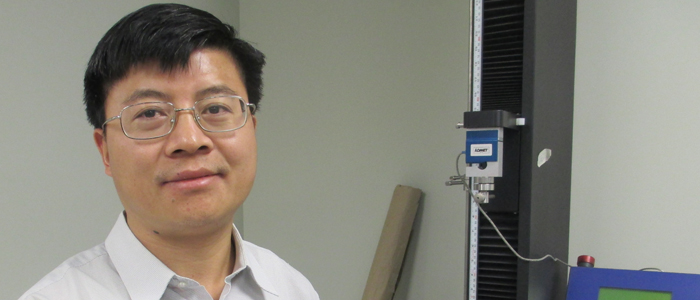 Western Engineering News | Oct. 21, 2014
By Jason Teakle
Charles Xu is looking to turn corporate sustainability goals into reality by assisting companies seeking new ways to produce and use environmentally friendly products.
Xu, a professor of Chemical and Biochemical Engineering and NSERC/FPInnovations Industrial Research Chair in Forest Biorefinery, is conducting an approximately $2 million research project to create environmentally friendly, bio-based materials from bio-based chemicals at the Institute for Chemicals and Fuels from Alternative Resources for various industrial uses.
"We liquefy the biomass into biocrude oil and then we refine it into bio-based chemicals to replace petroleum-based chemicals," explained Xu. "These bio-based chemicals are the feedstock for manufacturing bio-based materials, which include bio-based adhesives, resins and composite materials, such as insulation foam and fibreglass-reinforced plastic."
Before these materials can be applied to industry, Xu tests the chemical, physical, mechanical and thermal properties. Those that are successful can be commercialized.
The biomass used to create bio-based chemicals comes from two sources of waste, explained Xu.
One is forestry residue including lignin, bark, sawdust and wood that is not suitable for lumber, such as branches and twigs. The second is agricultural residue, including cornstalks and straw.
"These materials come from bio-based resources and are renewable. This can reduce our reliance on petroleum-based, non-renewable resources. It is environmentally friendly and is more economically viable because forestry and agricultural residues are less expensive than fossil fuels.
"If we do not use these residues, they go to the landfill or low-value applications, including combustion for generating heat in pulp and paper mills or greenhouses."
Once the products are created at ICFAR, patents for new products are filed and researchers begin to collaborate with industry.
"We have filed three patents already for adhesive, insulation foam and the liquefaction of biomass to biocrude oil," said Xu. "Right now, we are finding industry partners to obtain funding for pilot-scale testing. This testing will determine the technical and economic potential of these products prior to commercialization."
The materials being created by Xu and his team of about 20 graduate students and postdoctoral fellows are expected to improve sustainability and economic growth for Canadian industries.
"Commercialization of these products can create new jobs across Canada," noted Xu. "The most exciting part of this work is that we can produce bio-based products that are derived from renewable resources that can achieve better or comparable properties to the petroleum-based products."
The bigger picture is to create new business for forestry and agricultural industries, while reducing the environmental impact of various industrial products, he said.
"The main benefit to society is that we are creating additional revenue for the forestry and agricultural sectors through the utilization of residues," said Xu. "These green-based products can replace petroleum-based products to reduce our environmental footprint."