Western Engineering remembers École Polytechnique victims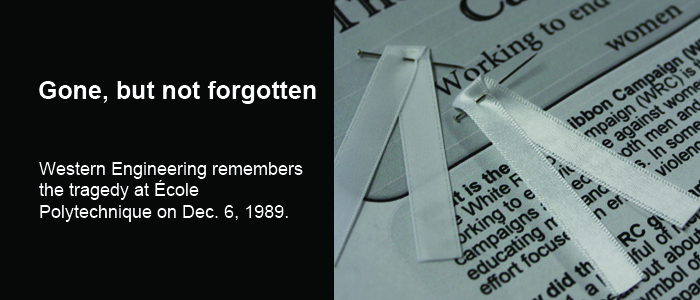 Western Engineering News | December 2, 2014
It is the 25th anniversary of the tragedy at École Polytechnique in Montreal and Western Engineering will remember the female victims during a memorial ceremony on Dec. 5.
Western Engineering Dean Andrew Hrymak, chair of the Council of Ontario Deans of Engineering, and Mary Wells, Chair of the Ontario Network of Women in Engineering (ONWiE) have written a letter on behalf of the Faculties of Engineering across the province in recognition of the 25th anniversary of this event and to discuss the changes that have occurred in engineering schools as a result to make the field more welcoming to women.
Click here to read the letter.
Women in Engineering and the Undergraduate Engineering Society will be selling white ribbons Dec. 2-3 outside of the Undergraduate Engineering Society office (at the uppy downy table) at 12:30-2:30 p.m. in support of the campaign to end violence against women and girls.
On Friday, Dec. 5, Western Engineering will gather in the front foyer of the Spencer Engineering Building at 11 a.m. for a candle lighting and wreath laying in remembrance of the female students killed at École Polytechnique on Dec. 6, 1989, and Lynda Shaw, a third-year mechanical engineering student at Western who was murdered near Highway 401 in 1990.
The University Students' Council will be holding a National Day of Remembrance and Action on Violence Against Women ceremony on Dec. 5 at noon in UCC 269. Check their website for more information on the speakers and event details.
As well, Hrymak has joined other leaders in the engineering community in a pledge to support women in engineering for the next 25 years. Click here to learn more about this initiative.