UNENE workshop helps match research with nuclear industry's needs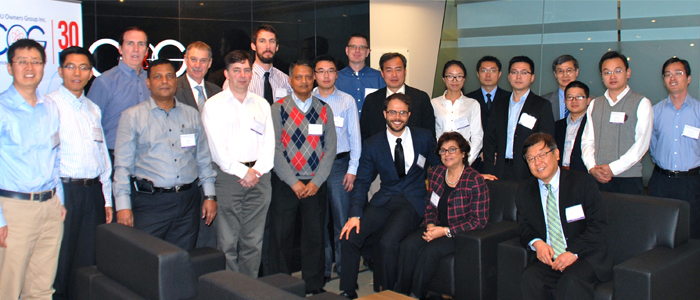 Western Engineering News | November 27, 2014
By Jason Teakle
More than 20 academic researchers, graduate students and representatives of the Canadian nuclear industry met in Toronto for the 10th annual University Network of Excellence in Nuclear Engineering (UNENE) Nuclear Instrumentation and Control Workshop in October, to discuss the latest developments in instrumentation and control systems in the nuclear energy sector.
The annual event is organized by Jin Jiang, a professor of Electrical and Computer Engineering and the NSERC/UNENE Senior Industrial Research Chair in Instrumentation and Control, and his research team. Jiang said maintaining close ties with the nuclear energy sector through the annual event is essential for Western's researchers to align their investigative work with the needs of UNENE industry partners.
During the workshop, Jiang and his group showcased their latest research results on systems for nuclear power plants. Furthermore, the UNENE president, Basma Shalaby, and representatives from Ontario Power Generation, Canadian Nuclear Laboratories, Canadian Nuclear Safety Commission, Candu Energy and CMC Microsystems also presented related activities in their organizations.
"This is an interaction between our research team and nuclear professionals in Canada," Jiang said. "This research is supported by industry and for industry. This workshop is a good forum to review, interact and plan for the future. This research group is investigating instrumentation control for nuclear power plants, including the processors, algorithms, control panels and wireless systems."
The research being conducted will lead to improved safety, efficiency and training for highly qualified personnel for Canadian nuclear industries, he said.
Founded in 2002, the main purposes of UNENE are to "establish a research and development program in universities" and maintain a "sustainable supply of qualified engineers and scientists to meet the current and future needs of the Canadian nuclear industry through university education, university-based training and by encouraging young people to choose nuclear careers," according to the organization's website.
Industrial partners of UNENE include Ontario Power Generation, Bruce Power, Canadian Nuclear Laboratories and the Canadian Nuclear Safety Commission, while Western University is one of 12 Canadian universities partnered with UNENE.