Students showcase innovation at Thames Valley Science and Engineering Fair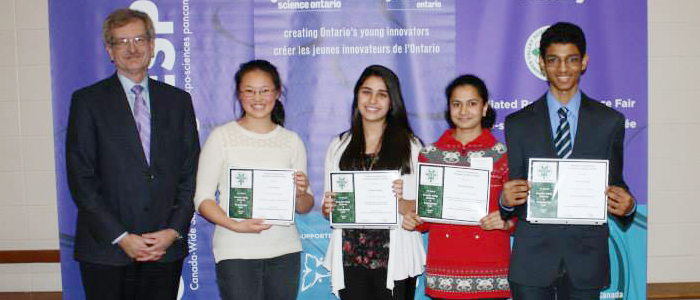 Western Engineering News | April 7, 2014
Student innovators from throughout the London and Middlesex region gathered at Western University recently to showcase more than 180 projects exploring the world of science, technology, engineering and mathematics at the Thames Valley Science and Engineering Fair.
The 44th annual event was held April 5-6 at the Faculty of Education, Althouse College, Western University.
The 200 participants competed for a variety of awards, including the chance to attend the Canada-Wide Science Fair held in Windsor in May.
Western Engineering presented a special award to four projects best demonstrating a passion for engineering and the winning participants were granted one week at the Western Engineering Summer Academy. This year, Dean Andrew Hyrmak presented the award to Loay Soliman, Shivika Parmar, Ghadeir Madlol and Yilin Huang for their inspiring projects, ranging from creating hydrophobic metals to understanding the impact the design of car windows can have on the health of the driver.