Strengthening our research impact and infrastructure
A message from the Dean
As Western University and Western Engineering look to realize our new strategy, 
Achieving Excellence on the World Stage, 
we focus on strengthening our research impact and infrastructure to attract and support the best faculty members and students, as well as enhancing opportunities for interdisciplinary and collaborative research.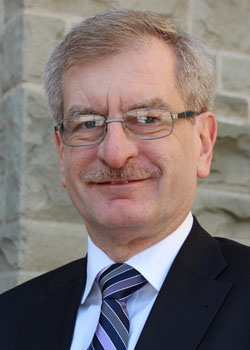 Over the past year we have reviewed our major areas of research strength within Western Engineering, which include:

Sustainability, environment, resiliency and adaptive systems
Concerns about climate change and the need for green technologies gives our researchers opportunities to build a sustainable future and to improve water quality, enhance environmental remediation,  develop sustainable urban infrastructure, and enhance our sources of energy (power systems, biofuels and alternative energy systems).
Biomedical engineering, technology in health and medicine
Our strong collaboration with the Schulich School of Medicine & Dentistry and the Faculties of Science and Health Sciences has produced outstanding research in biomedical engineering, medical physics, cell biology and anatomy, and musculoskeletal health. As the need for medical innovations increases, our faculty will contribute to new medical devices that will improve health care support and delivery.

Innovative materials and biomaterials
The global need for lightweight materials for transportation, to address energy costs and environmental concerns is driving industry, business and research sectors to partner and develop advanced materials solutions which are critical building blocks for any new manufacturing development. Our successful collaboration with industry is already attracting multi-million dollar funding and access to global research facilities. We have strong teams in functional nanomaterials in battery, fuel cell and photovoltaic materials. Our faculty members are developing new materials from biosourced materials that can be used in everything from medical devices to construction materials.
Ubiquitous information and communications
An IBM-Western initiative in cloud computing, big data analytics and high-performance computing propels the work already underway in computer science, software engineering, medical imaging and many other research areas on campus. Working with "big data"; offers opportunities for entrepreneurial alumni and industry supporters to create a unique student learning experience in a booming field.
With many interdisciplinary and collaborative research programs at Western Engineering, the faculty is looking to enhance and foster these opportunities by building research collaborations across the university, as well as networks nationally and internationally, to address large-scale issues and industry needs.
For example, communities looking to rebuild tornado-ravaged homes, such as the recent event in Angus, Ontario, can benefit from insights from researchers at the Insurance Research Lab for Better Homes who examined how damage to the buildings could have been prevented. To better understand tornadoes, scientists at the WindEEE Dome - the world's first 3D wind testing chamber - can simulate high-intensity wind systems, including tornadoes, downbursts, gust fronts or low-level nocturnal currents. This allows researchers to address important scientific, economic and societal challenges related to wind, while evaluating energy potential and damage risks.

In addition to these state-of-the-art facilities, our research groups, institutes and centres are internationally recognized leaders in the areas of biofuels, wind engineering, water research, energy and advanced manufacturing. Our research groups, institutes and centres include:
As we continue build on Canada's knowledge-based economy, we will become the destination of choice for the world's brightest minds and strengthen and enhance our research activities and technological innovations to meet societal needs and commercial applications.
Best regards,
Andrew N. Hrymak
Dean, Western Engineering