Riding the thrill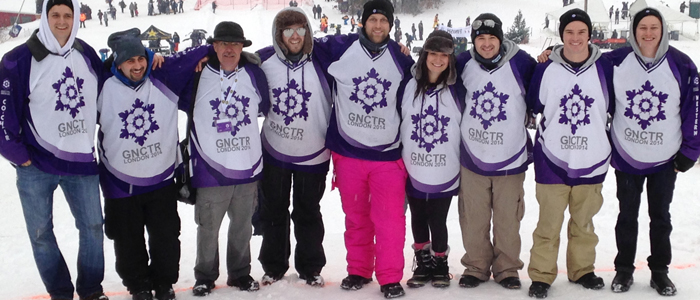 Western Engineering News | February 26, 2014
By Fred DeVries
They converged on Western University from across Canada (and even the U.S.) with one thing on their mind – to hurtle down Boler Mountain and claim bragging rights as the best designers and fastest racers of a concrete toboggan.
More than 450 engineering students representing 21 university and college teams competed at the 40th annual Great Northern Concrete Toboggan Race 2014 (GNCTR), hosted by Western Engineering from Jan. 29 to Feb. 2.
As the largest student engineering competition in Canada, GNCTR challenges teams to apply knowledge learned in the classroom to plan, design and build a toboggan equipped with a running surface made entirely of concrete. And the toboggan can weigh no more than 130 kg, plus support five courageous riders.
Watch the CTV News report of GNCTR 2014.
Experts and professors judge each entry in a technical exhibition, and then every team heads to the hill to slide down the slope, maneuvering around three slalom gates.
Western's team, Talladega WETT, hoped to repeat its big win from GNCTR 2013, when it won the overall design competition, most sustainable toboggan and giant slalom champion awards. The team fared well in the design and presentation categories, but in the end the University of Alberta captured the top prize – Canadian Society for Civil Engineering Cup.
"We've been working diligently for eight months on this project. Hundreds and hundreds of hours we put in," Western's team captain Doug Provost told CTV News. "It's been a blast, having a great time and getting to know a lot of people."
The student-organized event requires that students are responsible for every part of the process – from design drawings to technical reports to construction.
"We are seeing more multidisciplinary teams," Matt Johnson, a GNCTR organizing committee member and Western graduate, said to ENGINEERING.com. "From mechanical engineers designing the steering and braking systems to simulation experts performing roll cage safety and CFD aerodynamic analysis."
In the end, the competition is friendly and not as intense as Winter Olympic races.
"There's typically not too much rivalry," added Johnson. "Actually, the teams are supportive of each other. They get to see the trends in (engineering) of other teams' toboggans."
Click here
to see photos from the event.
More competition on the horizon
From March 13 to 16, Western will host another national engineering event. An estimated 150 of the best and brightest undergraduate engineering students in the country will attend the 29th annual Canadian Engineering Competition (CEC) in London.
At events on Western's campus and the Hilton hotel, future engineers will demonstrate their design, communication and problem-solving skills in a number of competitive challenges.
Organized by a team of Western Engineering students led by Michael Zawalsky and Gail Hayhoe, the CEC for 2014 features an "engineering intersections" theme, which explores the multidisciplinary roles that engineers are expected to fill in their profession.
Learn more at Canadian Engineering Competition 2014.