Recognizing global leadership
Western Engineering News | July 30, 2014

Bruce Ross, BESc'85, is much like the companies he has successfully shepherded – adaptive to new trends and acceptant of new challenges in the ever-changing business and technology sector.

Ross, recently appointed Group Head, Technology & Operations for the Royal Bank of Canada (RBC), will set the strategic direction and oversee overall management of global technology and operations for RBC, which includes applications development, infrastructure and enterprise operations.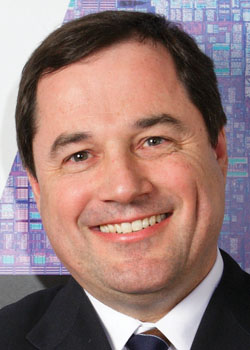 He is the recipient of the 2014 L.S. Lauchland Engineering Alumni Medal, which will be presented on Saturday, Sept. 20 during the Engineering Homecoming Alumni & Friends Reception at The London Club.

A dynamic leader with a track record of bringing about large-scale, highly complex transformations, Ross is an innovative and passionate thinker known for consistently translating strategy into business success.

Prior to joining RBC, Ross was the General Manager, Global Technology Services, North America at IBM. With more than 28 years of experience in the field, he helped set the long-term direction for IBM as a member of IBM's Strategy Team, including the company's investments in emerging markets, Cloud and Analytics.

He also held roles as General Manager, Global Technology Services, Europe for IBM, General Manager and President, IBM Canada, General Manager, Global Technology Services UK, Ireland, and South Africa. Ross' areas of responsibility have included providing thought leadership and services to financial institutions globally.

He is consistently recognized for his ability to create a results-oriented, team environment and for exceeding business and customer expectations.

Ross has maintained strong connections to his alma mater, providing a guest lecture in the Faculty of Engineering and serving as a member of the International Board of Advisors for Western University.

He was instrumental in working with IBM on its landmark gift to Western in 2012 of $65 million, a gift in kind of computers and software to enhance the collaborative efforts underway between Western and IBM as part of the IBM Canada Research and Development Centre – an Ontario-based high performance and cloud computing network.

He has also served as the Chair of the Ontario Brain Institute Liaison Council, and was a member of the Board of Directors of the Conference Board of Canada, the Canadian Council of Chief Executives, and was a Cabinet Member of the United Way Toronto Campaign Cabinet.

The L. S. Lauchland Engineering Alumni Medal was established in 1979 to mark the retirement of Professor Stuart Lauchland, founding member of the Department of Engineering Science at Western, and past-president of APEO.

The recipient is selected by a volunteer committee of Western Engineering alumni and friends based on outstanding contributions to the engineering profession, business leadership and community.
Click here to view the Flickr gallery of photos from the reception.