Ouda scores high amongst students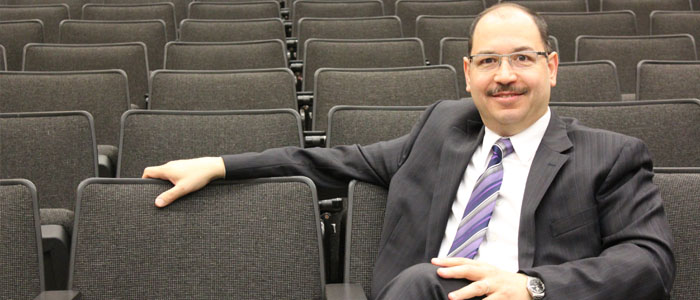 Western Engineering News | May 23, 2014
The sign of a good teacher is his ability to take complex concepts and make them seem simple and straightforward, a skill that Abdelkader Ouda has perfected.
Ouda teaches a wide range of Software Engineering course for Western Engineering. His experience in software development gives him a different perspective on teaching. But it is Ouda's love for teaching that make him stand apart and this is reinforced by his course evaluations, which routinely report a median score of 7/7.
It is because of his commitment to teaching that Ouda was selected as the 2013 recipient of the R. Mohan Mathur Award for Excellence in Teaching.
In the seven years since he joined the faculty, he has been awarded an University Students' Council Honour Roll Award of Excellence each year.
"This is really astonishing performance, indicating that he is found to be an effective teacher by not merely a majority, but practically the unanimous opinion of our Software Engineering students," says nominator Ken McIsaac, Electrical and Computer Engineering chair.
Ouda demonstrates great enthusiasm in curricular development, including creating three new courses for the Software Engineering program.
He plays an integral role in academic program development, offers insights into curriculum management and facilitates department strategy. He is also the program counsellor for the Software Engineering program, a demanding role in a program, which has expanded from 20 to approximately 80 students.
"Despite the increase in class size, Dr. Ouda continues to provide personal consultation to students to help with curriculum planning and career planning," notes McIsaac.
Although Ouda holds a 'teaching only' appointment and does not have any research responsibilities assigned to his workload, he continues to be involved in research and graduate supervision.
Due to the interdisciplinary nature of his research, Ouda has attracted highly qualified graduate students. He has also been successful in establishing industry connections and secure research grants.
"Dr. Ouda's teaching experience, along with his industrial experiences have provided him the effective tools in designing university-level courses, including course outlines, lecture notes, lab manuals, assignments and quizzes," adds co-nominator Luiz Capretz, Software Engineering professor and assistant dean, Information Technology and e-Education.
In recognition of Ouda's commitment to teaching, often going above-and-beyond his duties, he has been awarded the R. Mohan Mathur Award of Excellence in Teaching. Ouda will be presented with the award at the Western Engineering Faculty & Staff Awards Luncheon on June 18.