Norman's quiet leadership shines through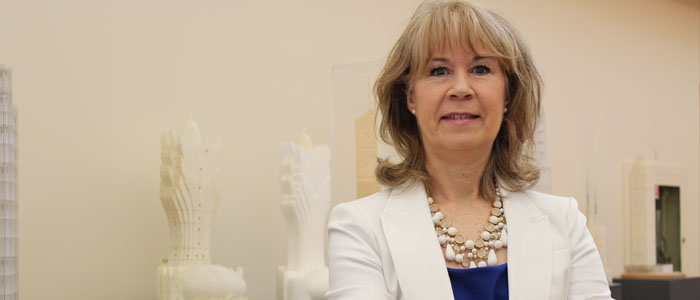 Western Engineering News | May 23, 2014
For more than 35 years Karen Norman has been the frontline support of the Boundary Layer Wind Tunnel Laboratory (BLWTL) and her quiet dedication to the role is why she is the recipient of the 2013 Sharon A. Ling Award of Excellence for Outstanding Achievement by a Staff Member.
"As two of those who have had the privilege to know Karen since her first days at Western, firstly as graduate students and then as BLWTL staff members, Engineering faculty and finally as directors at the BLWTL and WindEEE, Karen has been most helpful on every conceivable occasion and has been the perfect ambassador for the BLWTL and WindEEE, the Department of Civil Engineering and the Faculty of Engineering, and indeed the University," says nominators J. Peter King, director of the BLWTL and Horia Hangan, director of WindEEE Institute.
Norman has been in an administrative support position at the BLWTL since joining Western Engineering in 1978. She was the personal secretary for faculty members, including the BLWTL founding director, Alan Davenport. Throughout her years, Norman has impressed thousands of students, faculty members, administrators and visitors to campus.
In her role as administrative assistance, Norman "is helpful and conscientious in her work to a fault; proofreading practically every document and communication that is sent from the BLWTL," notes King and Hangan.
"We continually receive compliments of how thorough and helpful she has been from those who for years have only had telephone contact with Karen and have finally been able to meet her face-to-face."
Western Engineering is a leader in wind engineering and key to maintaining this stature is Norman's dedication to the daily operations the BLWTL and her leadership from behind-the-scenes to maintain the reputation of this world-renowned facility.
Norman has helped organize several important international conferences at Western, including the ninth International Conference on Wind Engineering in 1991, the 2001 Davenport Symposium and the WindEEE Symposium in 2013.
"These conferences have been recognized as being among the best organized in the field of Wind Engineering and Karen's involvement, quiet efficacy and attention to detail have been primary reasons for their success," King and Hangan say.
"Simply put, without Karen these events would not have happened at this level of professionalism."
Regardless of who you are – a graduate student, new faculty member, visiting researcher or BLWTL client – Norman offers everyone the same level of support and enthusiasm to help ease the transition to Western Engineering. She often goes above-and-beyond the responsibilities of her work to meet the needs of each individual.
In recognition of Norman's exceptional support for the goals of the faculty, she has been awarded the Sharon A. Ling Award of Excellence for Outstanding Achievement by a Staff Member. She will be presented with the award at the Western Engineering Faculty & Staff Awards Luncheon on June 18.