Kopp taking on a new challenge as associate dean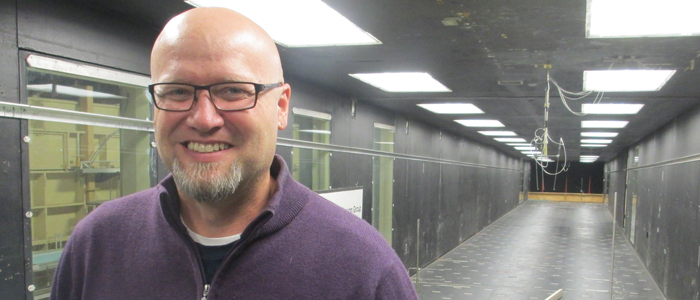 Western Engineering News | October 27, 2014
By Heather Hughes
Gregory Kopp is known for being the man on the ground assessing wind-ravaged homes following a tornado as part of his research. But now Kopp is stepping behind the desk to face different challenges in a new role as Western Engineering's associate dean, graduate and postdoctoral studies.
Kopp, a professor in the Department of Civil and Environmental Engineering and research director at the Boundary Layer Wind Tunnel Laboratory, is excited about his new administrative position, which begins Jan. 1, 2015.
"I'm excited about it," he said. "I think it's where the future is, and there are opportunities for growth."
This is a new position for Western Engineering, as formerly the role fell under the associate dean, research and graduate studies.
While the two are inherently intertwined, separating the administrative roles of research from graduate and postdoctoral studies reflects the growth of Engineering, notes Kopp.
"I view the graduate and postdoctoral studies role as dealing with students. Research is dealing with the money," he explains.
How the division of roles will play out "will probably evolve as we go," he adds.
A former Tier II Canada Research Chair (2001 through 2010) and a core research team member of the Insurance Research Lab for Better Homes, Kopp serves in many leadership roles in the wind engineering profession, including as president of the American Association of Wind Engineering.
He also served as associate chair, graduate, in the Department of Civil and Environmental Engineering from 2004-2006.
"I've been here a while and I was looking for a new challenge," he said.
With his extensive experience in the faculty and the broader wind community, Kopp is looking forward to having a different perspective on the university.
Crediting students for their significant role his research successes, he is pleased with the opportunity to serve them in an administrative role.
"What I love about doing research is student interaction," he said. "In Engineering, our students are intricately related to our research programs."
Based on his experience, Kopp feels he can help grow Western Engineering's graduate and postdoctoral programs. In particular, he plans to focus on expanding the master's of engineering program; improving recruitment and retention; increasing the number of domestic graduate students and promoting international collaborations and programs.
"I'm certain I can't do anything on my own. I have to work with the department chairs and professors. It has to be a team effort," he said.
For Kopp, "research is a way of life" and he intends to continue his research throughout his term as associate dean. However, much like the changing winds, Kopp was ready to add a new challenge to his resumé.
"I've been looking for new opportunities," he said. "It is an interesting role and an area of increasing importance at the university and in society."