In memoriam - Doug Shinozaki
Western Engineering News | April 28, 2014
Western Engineering is saddened by the news Mechanical and Materials Engineering Professor Emeritus Doug Shinozaki died on March 23, 2014 at the age of 68. Shinozaki retired from Western in 2011.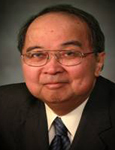 A private funeral was held on April 1 and Shinozaki was interred at Park Lawn Cemetery in Toronto next to his parents, Toranosuke Shinozaki and Miye Shinozaki (nee Kaneda).  He was born in Carmi, British Columbia on Nov. 3, 1945 and grew up in Hamilton, Ontario.
After retiring from Western, Shinozaki moved to Toronto to be closer to his family. Prior to working at Western, Shinozaki worked at universities in Manitoba and New York City.  He completed his formal education in 1972, having earned a Bachelor of Engineering Physics and Masters of Science (Metallurgy) from McMaster University and a Doctor of Philosophy (Materials) from the University of Oxford (Brasenose College).  He also pursued post-doctorate studies at The University of Bristol and was proud to have been licensed as Professional Engineer in Ontario and Manitoba.  
Shinozaki is survived by his brother and sisters, Ken (Betty), Teresa Bates (Paul), and Margaret, his nephews and niece, Jeff (Jenn), Mark (Marie), and Leslie Bates, and grand-nephews and –nieces Matthew, Talia, Nicole, and William.