Hayter Group 'gives back' to SunStang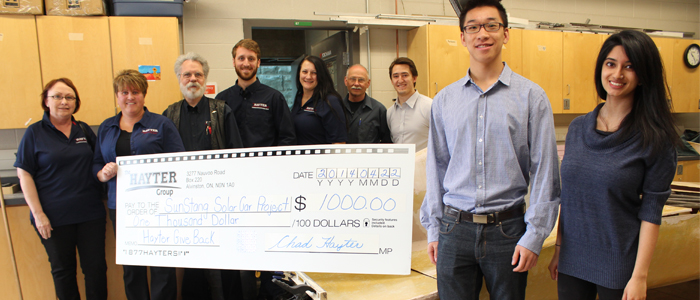 Western Engineering News | April 22, 2014
Hayter Group, a plumbing, heating, geothermal and solar company based in southwestern Ontario, has donated $1,000 to SunStang to support the costs of building the car and participating in the Formula Sun Grand Prix.
Through Hayter Group's Give Back program, the company awards $1,000 to the organization who receives the most votes. SunStang topped the votes for this quarter.

At Western Engineering, innovation and creativity are encouraged in the classroom, and in extra-curricular projects. The SunStang Solar Car Project is one of several design teams at Western where students can apply classroom knowledge and learn hands-on skills.

SunStang offers students the opportunity to combine the intensity of traditional automotive engineering with the challenges of solar innovation to produce a car unlike any other. Thanks to the Hayter Group's Give Back program, SunStang will be able to purchase components required to complete the build of the car, such as special solar tires for racing. The Hayter Group's support will also help SunStang to participate in the Formula Sun Grand Prix, a competition for collegiate solar car teams across North America. This event is held on the Circuit of the Americas in Austin, Texas, and is the ultimate test of the team's cohesion, resourcefulness, and excellence in engineering.
Check out a Flickr Gallery from the Hayter Group visit to Western Engineering.