Go ENG Girl provides a 'gateway' to engineering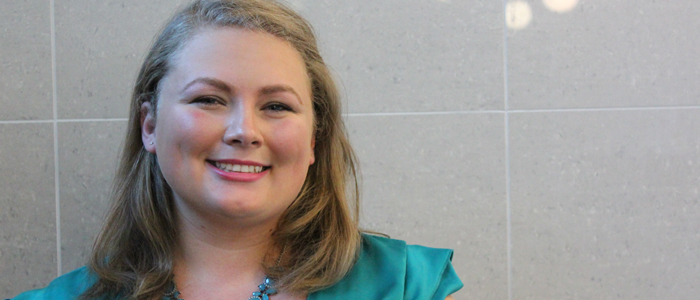 Western Engineering News | December 4, 2014
By Heather Hughes
Katherine Down, BESc'12 (Chemical), knew she liked Lego and math, but she didn't know that these building and problem-solving skills could lead to a career as an engineer until she attended Go ENG Girl a decade ago and saw other like-minded females in these roles.
Down, a guest panelist for Western Engineering's 2014 Go ENG Girl event on Oct. 18, describes Go ENG Girl as a "gateway" for her into the world of engineering.
"Go ENG Girl was the first time I got to see the practical applications of math and science," said Down. "It introduced me to the word 'engineering' and the concept of engineering."
Go ENG Girl is a program for young women in Grades 7-10 to learn about engineering. Participants hear from female professionals, academics and students, as well as enjoy fun, hands-on activities, such as creating a hydraulic drawbridge and a candy safe with an alarm.
This year marked the 10 anniversary of the event.
Looking back, Down remembers participating in Go ENG Girl as a youth.
"We spent the whole afternoon building something and then destroyed it," she said with a smile.
Seeing other young females sharing her interests took the stigma out of being excited about math and science, she said.
"It takes the edge and scariness out of it," she said. "These kinds of things are important to developing an interest in engineering."
Growing up, Down's parents exposed her to many different activities, which allowed her to test the waters of many different career paths. But Down credits an astute Physics teacher who told her she "would make a good engineer" for setting her sights on Western Engineering.
"She saw I had a real aptitude for this," she said.
Now, Down is paying it forward by speaking to other young women interested in following a similar path.
"I am only out (of school) three years. I am figuring it out as I go," she said.
Down is the Operations Lead, Waste Operations, at LANXESS Inc. in Sarnia. She oversees long-term, as well as day-to-day operations, including budgets, schedules and long-term planning.
"It interests me. I like having a challenge," she said.
Down encourages more young women to consider a career as an engineer.
"You don't have to be the very best in math and science to do engineering. It is more important to be a hard worker and to work towards your goal," she explains.
"If you are interested in engineering, you can do the work."
Girls and women often feel they need to understand something 100 per cent, which can sometimes hold them back from taking chances, echoed Go ENG Girl guest speaker Paula Sinclair, BESc'84, MESc'86 (Civil).
"When I took on a new job and it scared me, I knew I needed to learn and grow," she said. "I know I am smart enough to learn.
"Confidence is as important as capability," she adds.
Engineering lays the foundation for a variety of work experiences, said the former Chief Business Change Officer for Torstar Corporation.
While Sinclair's career path has taken many turns, she feels comfortable taking risks because her engineering background.
"An engineering degree has taught me how to think and taught me how to problem-solve," she said. "Things may be scary, but you just have to dive in."