Ferguson faces challenges with a unique perspective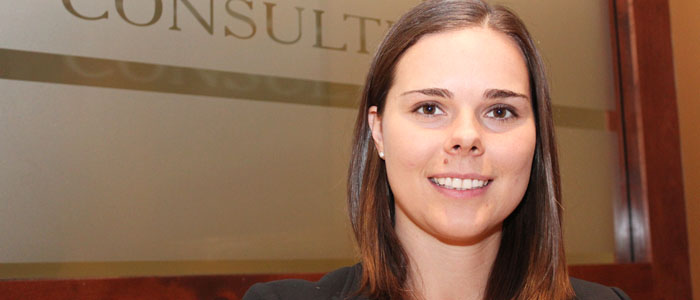 Western Engineering News | July 16, 2014
Rachel Ferguson (BESc'11, JD'11) is not afraid of a challenge.
Standing by the window overlooking the City of London from the top of a downtown office tower, Ferguson has a million-dollar view across the city. As she glances across this landscape, Ferguson is unsure which direction her next challenge may come from.
"Consulting is an exciting fast-paced work environment," she says. "I generally do not know what urgent issues will need to be addressed each day.
"The challenging aspects of my job are also often the most rewarding because I enjoy the variety."
Ferguson quickly realized the intersections between law and engineering, particularly relating to regulatory and intellectual property issues, during her summer co-op at an energy company in Sarnia, Ont. She completed the co-op following her second year at Western Engineering. Through this experience, she recognized that both engineering and legal professions require similar problem-solving skills and strategic thinking to address complex technical issues.
"I had already decided to supplement my undergraduate Engineering degree with additional training, and the opportunity to complete a Law degree simultaneously with my Engineering degree was very appealing," she says.
Currently, Ferguson provides project advisory and in-house legal services for Dillon Consulting Limited, where she works with a diverse team of technical and business professionals to address a wide variety of issues, including enterprise risk management, insurance, privacy, corporate governance and regulatory compliance.
"Dillon has offices across Canada, so I have the opportunity to work on a broad range of issues with a wide variety of people," she says.
She is also currently working towards the Certified In-House Counsel (Canada) designation with the Canadian Corporate Counsel Associate and the Rotman School of Management.
Ferguson's Law and Engineering degree gives her a unique perspective on a problem and she can proactively address any legal implications to an engineering issue.
"My technical background enables me to provide better insight and a more complete perspective on issues and decisions facing the firm," she explains. "In my unique role, I am better equipped to understand the underlying technical issues, identify opportunities for improvement, and contribute to efficient solutions because of my engineering background."
This position has also afforded her the opportunity to proactively work with management and technical staff on a variety of issues and to reduce risks.
A dual degree in Engineering and Law, the only program of its kind in Canada, provides students with a competitive edge in the workforce, notes Ferguson.
"In the current competitive job market, having a unique combination of skills is advantageous. Regardless of the career path that students intend to pursue, a solid technical and legal background will assist them in achieving their professional goals," she says.