El Naggar elected a fellow of the American Society of Civil Engineers
Western Engineering News | October 22, 2014
Hesham El Naggar, associate dean, Research and Graduate Studies, has been elected a fellow of the American Society of Civil Engineers.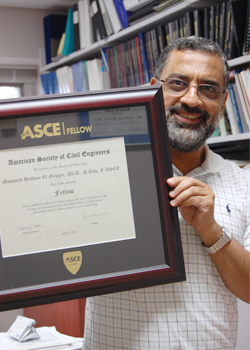 Fellows are practitioners, educators, mentors, and leaders with distinguished careers that have contributed significantly to the civil engineering profession.
"It is great to be recognized by the largest civil engineering society in the world," said El Naggar, a Civil and Environmental Engineering professor and Geotechnical Research Centre research director. "Being Canadian and recognized by such respected American society, it reflects international recognition."
El Naggar is also a member of the Canadian Society of Civil Engineers and the associate editor of the Canadian Geotechnical Journal.
For more information, visit http://www.asce.org/People-and-Projects/People/Bios/El-Naggar,-M--Hesham/