Climate study offers insight into 'skin' of buildings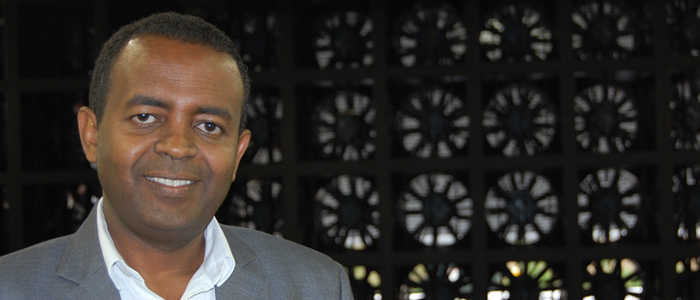 Western Engineering News | October 27, 2014
By Jason Teakle
Buildings can be more environmentally friendly and able to withstand harsh climate elements, and Girma Bitsuamlak is working to see both characteristics set in stone.
Bitsuamlak believes sustainable and resilient building design is the answer to reducing energy demand while minimizing the impact of extreme weather. The WindEEE Research Institute research director and Tier II Canada Research Chair in Wind Engineering is developing a computer model that captures detailed variations in climate. Unlike other wind studies, this information offers a different perspective and is expected to influence how sustainable buildings are designed and constructed.
"Traditionally, wind engineering is focused on the structural systems of buildings, but this project is focused on exteriors," noted Bitsuamlak. "When the skin of a building is well-designed, it moderates the climate."
The project, which began in April, was awarded by the Ontario Centre of Excellence's Early Career Award. The model will improve sustainable and resilient building enclosure design, including offering insight into what kind of exterior windows, doors, walls and other materials should be selected.
"There is a need to design and retrofit buildings to respond to climate passively," said Bitsuamlak. "Local climate can differ within a neighbourhood, depending on the type and size of a building, vegetation cover and topography. The climate can be different on one side of a building from the other."
This computer model will provide consistent, high-resolution climate information that will be used by architects, engineers, building scientists and urban planners. It can be used for any type of building, as the model simulates the microclimate surrounding a building or any arbitrary group of buildings.
Despite a rapid rise in efforts to construct sustainable buildings, Bitsuamlak noted that climate parameters on sustainability are often not appropriately implemented.
"There is a lot of interest in sustainability," said Bitsuamlak. "There is much effort put into making buildings more energy efficient, but there is a sustainability/performance gap, or, what is intended for implementation is different from what the end result is after construction. One primary reason for this is the use of climate boundary conditions that are not representative of the spatial and temporal variations seen in urban microclimates."
Sustainable design is critical to building energy efficient structures, but sustainability is not all that must be considered.
"A sustainable system should be resilient," explained Bitsuamlak. "When you look at green roofs, they moderate microclimate favorably, but are additional stressors to roofs and could cause wind-borne debris during extreme weather. Windows, vents or building façade openings are great for ventilation, but they open the door to rain and high internal wind pressures during extreme weather. These have to be designed carefully from a resiliency perspective, as well."
Sustainable buildings can save up to 80 per cent of energy use through proper building enclosure design, or the selected exterior materials used in construction, he said. In buildings that are climate-responsive, the impact on people is less severe during power outages caused by extreme weather.
"When I speak about resiliency, it is about ensuring the safety of buildings under extreme weather, such as a hurricane, tornado or strong windstorm," explained Bitsuamlak.
Bitsuamlak said the excellent experimental and computational facilities at Western make it possible for him to embark on such a significant project.
"I can dream of carrying out such a complex task because Western has provided me with access to world-class experimental and computational facilities, including SHARCNET and WindEEE," said Bitsuamlak. "Having both experimental and computational research experience are critical to the success of this project."
Thanks to the large-scale climate testing capabilities at WindEEE, Bitsuamlak is able to validate his findings on an individual building level or a city block level.
"This computer model can provide consistent, high-resolution climate information, including wind speed, temperature and wind-driven rain distribution," he said.