Chan's path of success rooted at Western Engineering
Western Engineering News | Sept. 19, 2014
By Jason Teakle
A journey marked by learning, success and achievement, Karen Chan, BESc'99, explored her path of success during the Women in Engineering Annual Brunch on Nov. 9.
The manager, digital ad systems, for Rogers Digital Media was the keynote speaker at the brunch held at the Delta London Armouries Hotel.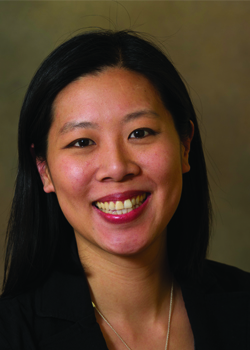 Chan's professional development started during her days at Western Engineering and set her on an incredible path of success and giving back throughout her career.
After earning three degrees from Western University, including a BESc in Mechanical Engineering (1999), a BA with a concentration in English (2000), and later, an MBA, Executive (2010) from the Ivey Business School, Chan received her P. Eng. (2004) designation and is a Lean Six Sigma Black Belt (2013).
"I loved the sense of community, the camaraderie and having a supportive network - from Sophs during Frosh Week, mentors through Women in Engineering, and classmates who became lifelong friends," Chan said. "I have tried to bring this with me throughout my career and in my volunteer work as a mentor and coach to new and young engineers in the workforce, being supportive of women in engineering and in manufacturing and volunteering on outreach activities.
"I have also taken part in the Ivey partnership program (partnering with HBA and MBA grads) since graduating from Ivey in 2010."
While at Western, Chan was deeply involved in student life and made the most of her university experience.
After completing her undergraduate degrees, Chan started her career as a sales and applications engineer with Automated Systems Inc (ASI), where she built automated assembly solutions for primarily Tier 1 automotive suppliers.
"I loved being able to combine the communications skills honed from studying English with the problem-solving skills developed in engineering to build customized solutions for my customers," Chan said. "After two years, I decided that I wanted to have deeper technical expertise, so I moved to General Motors (GM) of Canada."
Over a decade spent with GM, Chan wore many hats and was responsible for manufacturing, quality, design, communications and government relations.
"I learned to design and build cars in a fast-paced, high-pressure environment. I was fortunate to have been given opportunities that pushed me outside of my comfort zone, such as supervising 14 union employees on the production floor.
"My last role at GM was in government relations, working with the different levels of government on lobbying activities and crafting communications for the executive team for outside stakeholders."
Moving outside her comfort zone led Chan to work in engineering centres, validation testing facilities and in multiple assembly plants in three countries.
"My proudest accomplishment has been to successfully launch four vehicle programs during a two-year international assignment in Mexico," she said.
In 2012, Chan moved to Rogers Digital Media and focuses her work on business process improvement projects. After being promoted to manager, digital ad systems last year, Chan maintains and launches business systems for digital ad operations and digital sales.
"At its heart, engineering is problem solving," explains Chan. "I look at problems like a puzzle and engineering has given me the tools to think systematically and methodically to figure out that puzzle and fix the problem. I'm fortunate that I've been able to take these problem-solving skills from a manufacturing environment into the world of media."
Reflecting on her learning experiences at Western Engineering has always been a guiding light in her work.
"When I was in undergrad, Dean (R. Mohan) Mathur stressed the importance of teamwork, and how in the real world, you work collaboratively with others to accomplish a goal," she notes. "This held true during my time at Western with projects, class assignments and on student council (Undergraduate Engineering Society). During my time at Western, I was the vice-president academic, the merchandising co-ordinator and University Students' Council representative, in addition to being a Soph for three years."
Chan's shares her leadership expertise by giving back to professional organizations, including the Ontario Society of Professional Engineers (OSPE) and Professional Engineers Ontario (PEO). Elected to the OSPE Board of Directors last year – and vice-chair and president-elect for 2015, Chan has devoted her time to numerous projects which raise the profile of engineering.
"In my time with OSPE, I have been actively involved with chapter outreach and in building relationships between OSPE, PEO and other engineering organizations," Chan said. "I have also been actively involved in Women in Engineering activities and initiatives, such as Go ENG Girl and WEMADEIT.ca, and with student outreach at the University of Ontario Institute of Technology, the engineering school located in my home chapter.
"My responsibilities with OSPE have expanded to include strategic planning and board development, and I will be drawing on my GM lobbying experience as I take on a more high-profile role in OSPE's advocacy efforts with the provincial government."
Chan joined PEO and OSPE because of her commitment to the profession and supporting engineers.
"I feel strongly about giving back to the community, and supporting engineers and the profession of engineering," she said.