Celebrating our history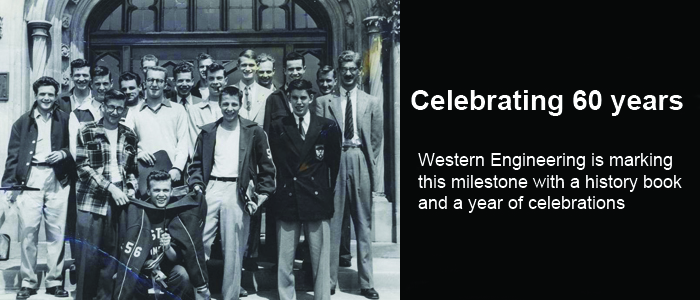 Western Engineering News | Aug. 22, 2014
Western Engineering is set to mark 60 years of growth in research innovation and teaching excellence as students return to campus in September.
Western University's Homecoming celebration, held from September 18-21, will kickoff the yearlong celebration of Western Engineering's anniversary with a series of special events and the launch of a newly published history book.
Expansion and Innovation: The Story of Western Engineering 1954-1999, which chronicles the first 45 years of Western Engineering's growth, was co-authored by Electrical Engineering professor emeritus G.S. Peter Castle (BESc'61, PhD'69), the first Western Engineering student to receive a doctorate at Western, and the late George S. Emmerson, who taught in the Department of Mechanical Engineering at Western 1959-1985.
Starting in September, the history book will be available online at Amazon, Barnes & Noble and the entire Ingram catalogue (which includes Chapters/ Indigo). The book will take alumni, current students and friends on a journey through Western Engineering's evolution from a department into a faculty, complete with established graduate programs, research centres and institutes. It shows the highlights and challenges the faculty faced through the lens of five academic leaders spanning more than four decades of engineering education at Western University. Personal stories and photographs of Western Engineering's alumni and friends will provide a truly authentic walk down memory lane.
Be sure to share your photos and memories with us on social media, using our official hashtags: #westernhoco and #westernuEng.
We will be highlighting 60 years of Engineering at Western throughout 2014-2015 with a series of events, which will kick-off during Homecoming.
We invite alumni and friends to celebrate this milestone with us by visiting on Saturday, Set. 20 for the Annual Western Engineering Open House in the Claudette MacKay Lassonde Pavilion. Copies of the history book will be available for purchase at the open house.
We will continue the 60th anniversary celebrations into the evening with the Engineering Homecoming Alumni & Friends Reception at The London Club. Bruce Ross, BESc'85, a business and technology leader, will be honoured with the 2014 L.S. Lauchland Engineering Alumni Medal.
We will also highlight our 60 years of leadership and innovation during the 5th Annual Western Engineering Leaders' Reception, held Tuesday, Nov. 4 at Steam Whistle Brewing, The Roundhouse in Toronto, Ont. This year we will focus on our role in different aspects of water research.
We invite you to celebrate 60 years of Western Engineering with us. Check our Engineering website for future 60th anniversary events.