Celebrating 60 years of research leadership and success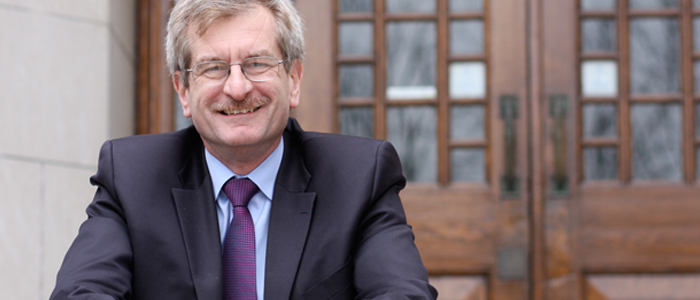 A message from the Dean
This is an exciting year for Western Engineering, as we celebrate our 60th anniversary. Over the coming year, we will continue to celebrate the Faculty's milestones, from research leadership and successes, to faculty and student achievements inside and outside the classroom.
As well, to commemorate this moment we have published a history book, Expansion and Innovation: The Story of Western Engineering 1954-1999. The book was co-written by Electrical Engineering professor emeritus G.S. Peter Castle (BESc'61, PhD'69), the first student from Engineering to receive a doctorate at Western, and the late George S. Emmerson, who taught in the Department Mechanical Engineering at Western 1959-1985. 
As we look ahead, we have set ambitious, yet achievable goals in our new strategic plan: The Next Five Years: Achieving Excellence on the World Stage. The next five years will be a period of growth and opportunity for Western Engineering, as we focus on being a destination of choice for the world's brightest minds seeking the best learning experience at a Canadian research university.
We will continue to strengthen and promote our key main areas of research strength, which includes:
• Sustainability, Environment, Resiliency and Adaptive Systems
• Biomedical Engineering, Technology in Health and Medicine
• Innovative Materials and Biomaterials
• Ubiquitous Information and Communication
Addressing today's complex global issues requires an interdisciplinary and collaborative approach to research. Western Engineering continues to look for opportunities to work with other faculties across Western University's campus, as well as with national and international partners to meet societal needs.
For example, we recently announced a successful industry partnership – the NSERC Syncrude/ExxonMobil Industrial Research Chair in Fluid Coking Technologies, held by Cedric Briens. Through his research, Briens, a Chemical and Biochemical Engineering professor and director, R&D, of the Institute for Chemical and Fuels from Alternative Resources, is looking to improve how Canada's heavy oil is upgraded.
In addition to our strengths in energy-related research, we are also pleased to celebrate our long history in the area of water research. At the Western Engineering Leaders' Reception, held in Toronto on Nov. 4 at Steam Whistle Brewing, we launched the Water Research video. This video highlights five Western Engineering researchers who are working with industry to make a difference and creating lasting solutions to global water problems in the areas of water quality, supply and treatment technologies.
While the video examines specific aspects of water research, this does not cover the breadth of our expertise. Research in water resources, source water protection, water quality, supply and treatment technologies has been conducted at Western Engineering since the late 1970s and includes researchers from the Departments of Chemical and Biochemical Engineering and Civil and Environmental Engineering.
Our students benefit from these key areas of research strength and we continue to look for opportunities to improve their learning experiences, such through international exchange programs with leading universities and research centres.

In support of improving the graduate student experience, Gregory Kopp, a professor in the Department of Civil and Environmental Engineering and research director at the Boundary Layer Wind Tunnel Laboratory, has been named associate dean, graduate and postdoctoral studies, effective Jan. 1, 2015 for a five-year term. Kopp is renowned for his research at the Insurance Research Lab for Better Homes and his leadership in the wind community. A former Tier II Canada Research Chair, Kopp's expertise will be an asset to this new role.
We also plan to expand our Master of Engineering (MEng) enrolment, and will offer flexible programs that address industry needs. The MEng program provides an opportunity for qualified engineers to improve his or her theoretical and practical skills, and includes an internship option.
As we look ahead for the next five years, we are excited by the challenges and opportunities of achieving excellence on the world stage.
To learn more about our strategic plan or to find out how you might support our visions for the future, contact us at contactWE@eng.uwo.ca.
Best regards,

Andrew N. Hrymak
Dean, Western Engineering