Amr S. Elnashai delivers Western Engineering Distinguished Lecture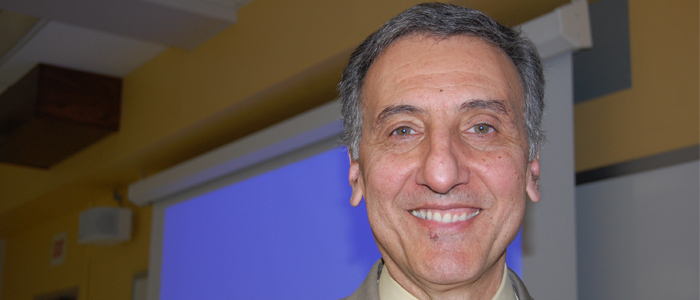 Western Engineering News | April 28, 2014

Amr S. Elnashai, Harold and Inge Marcus Dean, College of Engineering at The Pennsylvania State University, delivered the Western Engineering Distinguished Lecture on April 24.

Elnashai spoke about "Models and Methods for Comprehensive Assessment of Disaster Impact on Vulnerable Communities."

The significant casualties of natural disasters annually and the challenges in responding to such occurrences demonstrates the need for a new approach to managing the devastating toll on communities, says Elnashai.

"Natural disasters persistently reveal a lack of a holistic approach," he says. "Everything is really dependent on everything else, and that is not often looked at."

Elnashai participated in a major project funded by the U.S. Department of Homeland Security and undertaken by a consortium of universities with the support of the eight central states, to conduct an impact assessment in the case of earthquakes in the Central U.S.
 
State-of-the-art simulation models were created to assess direct and consequential impact, including fire ignition and temporary housing optimization, alongside structural and geotechnical damage in the eight central states: Alabama, Arkansas, Illinois, Indiana, Mississippi, Missouri, Kentucky and Tennessee.

"People are worried about creating wealth, but they are less worried about protecting this wealth," Elnashai notes.

When looking at the potential impact of a natural disaster, "you need to know the demographics of the community to understand what resources they will need," he says.

"We need an interdisciplinary, system-level approach that brings engineers, social scientists, emergency managers and policy and decision makers together," he continues. "We cannot prepare for disasters when there isn't harmony between the stakeholders."

In spite of its sophistication, one of the challenges in the modeling is the fact it doesn't account for how society will respond. Elnashai advocates for placing more emphasis on the social aspect of disaster mitigation and response.

At the university level, it is important to have a major organization that brings people together to address these issues and take a more holistic approach, he adds.

"The 'problem' with our study was it was really realistic," jokes Elnashai.

Click here to view the full lecture abstract.