Hillebrandt encourages girls to shoot for the moon
September 24, 2013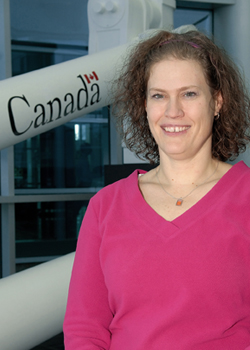 When Tara Hillebrandt joined Western University in 1989 she was enrolled in Science and living in Saugeen-Maitland Hall.
Although she was enjoying the start of her academic journey, by Thanksgiving, Hillebrandt was considering transferring to Western Engineering. Coincidentally, so was another resident of Saugeen-Maitland.
"I think my fondest memory at Western was an evening spent in the washroom in Saugeen-Maitland Hall," recalls Hillebrandt.
There, sitting in the residence washroom to avoid waking their roommates, Hillebrandt engaged in a conversation with another girl from Saugeen-Maitland who was also enrolled in Science and thinking about transferring to Engineering.
"We ended up spending the entire night discussing our options," says Hillebrandt. "In the end, we both ended up transferring to Engineering.  I went into Mechanical and she went into Chemical."
That spontaneous conversation in the bathroom that night led to a life-long friendship and a successful engineering career for Hillebrandt.
"I learned so much during my time at Western," she says. "I learned the value of hard work, the value of friendship and collaboration, and the value of learning what I was capable of achieving." 
Hillebrandt will return to campus on Saturday, Oct. 19 to tell us more about her journey from Western Engineering to present at our annual Go ENG Girl event targeted towards girls in Grades 7 – 10.
"I think it is important to show people, children and students in particular, what options are out there," says Hillebrandt. "I didn't even discover the field of engineering until I arrived at Western."
Currently working as the Real Time Support Supervisor with the Canadian Space Agency (CSA), Hillebrandt will focus her Go ENG Girl talk on one of her favourite expressions: shoot for the moon, even if you miss, you will land amongst the stars.
Hillebrandt explains this is one of her favourite expressions because it aptly describes her career path thus far; a successful career achieved by acting on opportunities and reaching for the stars.
Her career began as many do – just out of university and unable to find a job in her related field.  She decided to take a 'temp' job working with Advanced Information Technology (AIT) Corp. in Ottawa.  At that time AIT was preparing a proposal for a contract doing mission operations support for the Canadarm2 program at the CSA.
Hillebrandt worked with AIT for a few weeks helping to put together the proposal, doing largely technical editing and word processing tasks.  While she was there, an offer was presented to work with Canada Post, monitoring mainframe computer applications.  Though still not really a job in her field, Hillebrandt felt it had greater potential for advancement and stability so she accepted Canada Post's offer.
About six months later, Hillebrandt received a call from the project manager she had worked with at AIT.  They had won the competition for the mission operations contract at CSA and they were interested in hiring her on a contract position.
That one-year contract eventually lead to a permanent Government position.  Nineteen years later, Hillebrandt is still working with CSA, enjoying a career that is truly out of this world.