Hanny A. Hassan honoured by Western Engineering for contributions to the engineering profession
Western Engineering News | July 12, 2013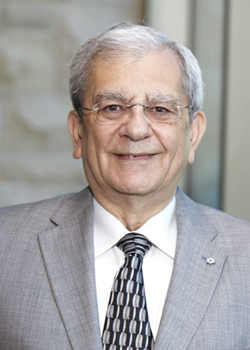 Retirement is not slowing down Hanny Hassan.
A consulting engineer by trade, Hanny A. Hassan, C.M., BESc'64 (Civil), is currently managing an independent consulting engineering practice, Alef Consulting Inc., and is a long-time volunteer promoting understanding between cultures and religions.
He is also the recipient of the 2013 L.S. Lauchland Engineering Alumni Medal.
Selected by a volunteer committee of Western Engineering alumni and friends, and in recognition of his outstanding contributions to the engineering profession, business leadership and community involvement, Hassan will receive the alumni award during Homecoming 2013 at the Engineering Alumni & Friends Reception on Saturday, Sept. 28 at the London Club, starting at 6:00 p.m.
"We are honoured to present Hanny with this prestigious award from Western Engineering," says Andrew Hrymak, Dean of Western Engineering. "The L.S. Lauchland Engineering Alumni Medal was established to honour our alumni on the basis of their outstanding contributions to Canadian life. Hanny is a most deserving recipient of this recognition for his engineering and public service accomplishments and leadership"
After obtaining his bachelor's degree in civil engineering from Western in 1964, Hassan received his master's degree in engineering from Dalhousie University in 1972. He has been an active professional, advancing within Dillon Consulting, a major professional engineering consulting firm, where he served as a director and a partner until his retirement in 2002. He now manages an independent consulting engineering practice, Alef Consulting Inc., in London, Ontario.
Hassan has a long and distinguished career in community service, including significant contributions to the Muslim and Arab communities, of which he is a member, but also with respect to equity and multicultural issues. 
He is a frequent speaker and lecturer to schools, universities, church groups, service organizations and the business community.  He has also focused his publicly oriented energies and commitments on interfaith and multicultural issues.
In 2011, Hassan was named to the Order of Canada.  His other affiliations are many and include: Board of Governors and Senate, Western University; Board of Directors, London Chamber of Commerce; President of the Ontario Advisory Council on Multiculturalism and Citizenship; member Canadian Broadcast Standards Council; Chair, Ontario Judicial Appointments Advisory Committee (2005 to present); President of the Council of the Muslim Community of Canada (1993 to present); Advisory Committee, OMNI Television; member Toronto Chapter World Conference on Religion and Peace.