Hasegawa's entrepreneurial spirit ready to tackle 'The Next 36'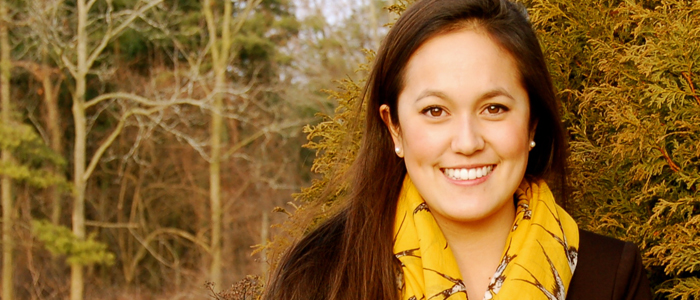 Western Engineering News | December 20, 2012
By Heather Hughes
Lauren Hasegawa is already feeling the pressure. The fourth-year civil engineering student has hit the ground running as one of six Western students selected as part of 'The Next 36,' an entrepreneurial business incubator for innovative Canadian undergraduates.
After making it through the application process, Hasegawa was invited to the National Selection Weekend in Toronto Nov. 30 – Dec. 2. She was one 70 finalists representing 19 universities put to the test in the rigorous weekend-long interview.
The goal of the program is to develop the country's next generation of entrepreneurs.
"It's incredible how the entire path of my life has changed in the last few days," she said in an interview shortly after the selection weekend. "I think about it and almost get dizzy."
With strong competition from university students across Canada, Hasegawa needed to differentiate herself from the crowd. A significant portion of the selection weekend was demonstrating how driven and resilient she could be, as well as showing how she has aspirations for greatness.
"They are really going to push us out of our comfort zone," she says. "I've changed, even in the two days in Toronto. It's a much greater set of expectations than I've ever had before.
"I can see already this program is so much more than what I've ever experienced before."
During the selection weekend she was partnered with two other students – one of which is studying at the Richard Ivey School of Business – to start brainstorming. During the weekend carousel, the students pitched their ideas to business leaders and mentors.
The group is currently working on a mobile application to improve the effectiveness and efficiency of construction sites.
Teamed up with a business student and programmer, Hasegawa brings a background in civil engineering and construction to her team. The program is an opportunity to expand her business skills, as well as connect with a network of leaders with experience as entrepreneurs.
"Now is a crucial time to get up and running," she said. "It's a lot to handle, but I think it is crucial to get off to a great start."
While Hasegawa may feel 'The Next 36' has charted a new course for her after graduation, she sees her engineering background as providing the foundation to thrive in both traditional and non-traditional career paths.
"Being able to see a problem and being able to tackle it, that will be a big benefit to me and my team," she said.
"I can apply my engineering knowledge … and use it in a different way," she continues. "We still need to do a lot of research and refine our concept."
Each team works remotely on their ventures as they complete their studies. During this time, Hasegawa will participate in online courses with some of the world's top faculty and Canadian business leaders, and complete assignments. In May, she will join the other participants in Toronto to complete the intensive program. The teams compete against each other in August for the most successful venture.
"It still hasn't really settled in," Hasegawa said. "It's very exciting."
Even if her venture doesn't succeed, Hasegawa knows the skills and experience she will develop during the year will set her on the path to becoming an entrepreneur.
"I feel extremely privileged and grateful to be given this opportunity," she said. "With that opportunity comes great expectations and a significant amount of pressure to perform.
"I have this opportunity and I need to seize it."