Welcome to the Boundary Layer Wind Tunnel Laboratory eNewsletter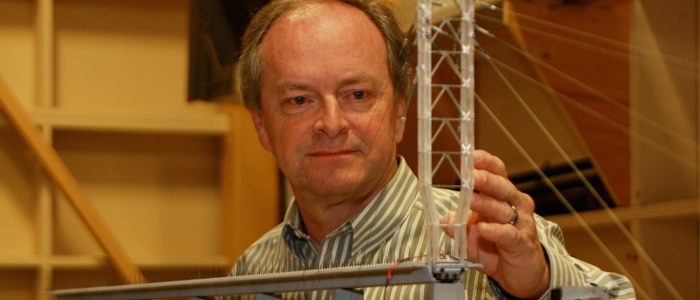 I would like to welcome you to the inaugural eNewsletter of the Boundary Layer Wind Tunnel Laboratory (BLWTL) at Western University. The newsletter is an important medium by which we can keep in contact with clients, alumni, past and present colleagues in the wind engineering community.
It was November of 1965 that the BLWTL was opened under the direction of Professor Alan Davenport, devoted to the understanding of wind effects on structures. This very unique facility was located on the campus of what was at the time, a relatively small university in Canada, with a school of Engineering that had only been in existence for a few years. The BLWTL became a leader in its field through a synergistic melding of the three components of education, research and application to industry.
With nearly 2,000 wind engineering projects performed since its opening, with hundreds of alumni, faculty, staff, students and visiting researchers, it is hoped this bi-annual newsletter will be an effective tool to keep in touch.
Each newsletter will include information on activities at the BLWTL and will include dates of upcoming wind engineering conferences, recent 'signature projects' performed at the lab, and exciting new areas of research.
In the current issue, we highlight the publishing of the Wind Wizard book chronicling the accomplishments of Alan Davenport, as well as extending a warm welcome to researcher Girma Bitsuamlak, our newest member of the wind engineering team at Western. Our partnership with Novus is also highlighted, which brings a new capability in the assessment of air quality and aeroacoustic issues.  
Thank you for taking the time to read our newsletter. If by chance your email address was added to our database by mistake, please accept our apology. We have included options for removing yourself from our newsletter at the bottom of this and all emails you receive from us. We also provide instructions on how you can change your email address and any personal information you have provided to us.
Please feel free to forward this newsletter to a friend or colleague. Should you wish for technical information, please visit our website or contact us via e-mail with a specific request.
Contact us if you have ideas for future newsletters, any comments, questions or concerns.
Sincerely,
Peter King
Director, Boundary Layer Wind Tunnel Laboratory