Student Wellness Counselling
Student Wellness Counselling
Meet Sara Hanna , Western Engineering's Student Wellness Counsellor.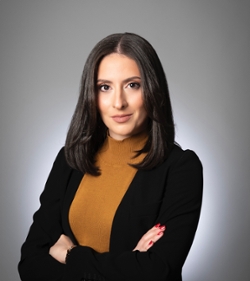 Sara joined the Western Engineering Team in September 2021.
Sara holds a Master of Social Work, Honours Program, from King's University College at Western University and is a Registered Social Worker with the Ontario College of Social Workers and Social Service Workers. Since her graduation, Sara has worked as a Social Worker with Anchoridge Counselling Services, Rising Insight Counselling and Psychotherapy, and most recently with the London District Catholic School Board (LDCSB), where she worked with both elementary and high school students. Throughout her studies, Sara also completed internship placements with YouthREX, Parkwood Mental Health (St. Joseph's Heath Care), and the LDCSB. As the Student Wellness Counsellor, Sara will be contributing to the retention and success of students within Western Engineering by supporting students to resolve personal, social, and family difficulties that may affect their academic success, as well as evaluating, developing, and implementing services aimed at promoting positive mental health.
Requesting An Appointment
To request an appointment, please download and complete the CONFIDENTIAL Intake Form and Assumption of Risk Form, and submit to Sara directly via email (sara.hanna@uwo.ca). 
Please note that counselling sessions are exclusively available through scheduled appointments ONLY and are NOT intended for same-day or immediate crisis drop-in. Emails are monitored only during regular hours (9-4 Monday to Friday). Please allow 24-48 hours for a response.
For on-campus crisis support, please visit the crisis clinic in Thames Hall, second floor (room 2170) to be checked in. You can also call 519-661-3030 to get booked. Please note that the crisis clinic operates between 11:00 am-4:30 pm.
Additonal Support Resources:
Graduate Student Success Session - October 2022