GRC News & Events - 2020
Dr. M.H. El Naggar, GRC Research Director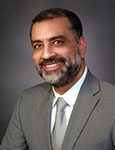 Cancelled and will be rescheduled in the fall 2020
Short Course and Workshop on Design of Machine Foundations
Course is being held on March 19 & 20, 2020
Delta Hotels Calgary South, 135 Southland Drive SE, Calgary


This short course and workshop should be of interest to geotechnical engineers and civil engineers who wish to have a better understanding of the current state-of-the-art with respect to the analysis and design of flexible, rigid and pile foundations subjected to all types of dynamic loads. All key concepts and terminology will be explained, and emphasis will be placed on the practical application of the information provided.
Program
 cLARE ROBINSON, GRC Research director
Professor Clare Robinson is the principal investigator on the Scholars Network for Building Disaster Resilient Communities project, a recently funded partnership between Western and Cuban institutions on physical and social resiliency around natural disaster management.
 Safwat Ramadan, PhD Candidate
Safwat Ramadan, supervised by Dr. M.H. El Naggar, placed first in CGS-SOS 2020 Graduate Students Presentation Competion held on January 15, 2020, in Toronto.  The title of his presentation was "Performance Assessment and Design Guidelines for Three-Sided Precast Concrete Culverts".