Research
Research Interests

In recent years, the main focus of Dr. Kermani's research has been on the development of a new breed of robots that can integrate into the human's environment, without posing a danger to the humans. Unlike their industrial counterparts, the new robots are unique for their ability to safely and intuitively interact with humans.
Since the invention of robots, in spite of all incremental advances in engineering and computer science, a world of ubiquitous robotics remains confined to science fiction. There is still a large technological gap between the requirements of industry-oriented robots and those qualified for (physical) interaction with humans. The design of the new robots calls for drastic changes, if not a paradigm shift, in our traditional design practices. In recent years, the focus of the robotic research community, robot manufacturers, and other leading industries have been shifted towards solving this problem. And to this end, Dr. Kermani and his team of graduate students aim at addressing some of remaining challenges. This includes:
the design of human-compatible actuation concepts using smart materials such as magneto- and electro-rheological fluids,
new mechanical concepts in designing robots, and
new approaches to human-robot interactions and robot control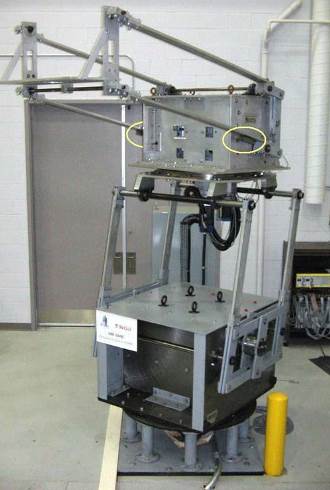 Macro Manipulator Dr. Kermani's research interests in general include Control Systems Design and Mechatronics Systems where mechanical and electrical disciplines are merged in modern engineering. His special interests are in physical human-robot interactions, robotic-assisted systems, bio-mechatronics, control of redundant manipulators, and control of large-scale robot manipulators.
My Research Group
Group Leader

Mehrdad R. Kermani, Ph.D., P.Eng.,

Ph.D. Students

Mahyar Abde-etedal (Jan. 2014 - present)
Alex Shafer (Jan. 2010 - present)
Nima Najmaei (Sep. 2009 - present)

Master's Students

Nikita Kuchinsky (Sep. 2014- present)
Masoud Moghani (Jan. 2014- present)
Ph.D.

Payman Yadmellat (Sep. 2009 - Dec. 2013)
Vahid Sotoudehnejad (Sep. 2009 - Dec. 2013)
Ali Asadian (Jan. 2008 - Apr. 2013)

Master's

Wenjun Li (Sep. 2012- May 2014)
Mahdi Anooshahpour (Sep. 2009 - Sep. 2011)
Alex Shafer (May 2007 - Dec. 2009)
Khalid Habib (Sep. 2006 - Dec. 2009)
Nima Najmaei (Sep. 2007 - Aug. 2009)
Mohammed Allawati (Sep. 2006 - Mar. 2009)

Undergraduates
Currently there is an open position for a Ph.D. student with strong background in mechanical engineering. In addition to academic backgrounds, practical experience in mechanical design is a must. Interested students can send their resume along with their transcripts to mkerman2@uwo.ca. Please note that I will not be able to reply to your emails unless there is an interest.