Ken McIsaac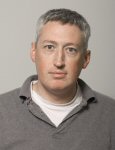 Associate Professor and Department Chair

Ph.D. University of Pennsylvania, Philadelphia (2001)
M.Sc. University of Pennsylvania, Philadelphia (1998)
B.A.Sc. University of Waterloo, Waterloo (1996)


Dr. K. McIsaac received the M.Sc. and Ph.D. degrees in electrical engineering from the University of Pennsylvania, Philadelphia in 1998, 2001, respectively.
Dr. McIsaac joined ECE as Assistant Professor in January 2001 and was promoted to Associate Professor in July 2007.
He served as Associate Chair (Undergraduate) from 2007-2010 and 2011-2012. He served as Director of Mechatronics from 2011-2012. Since January 2013, he has been Chair of Electrical and Computer Engineering.  Dr. McIsaac is the Associate Director (Acting) of the Center for Planetary Science and Exploration.
Dr. McIsaac is a Registered Professional Engineer in Ontario.
Awards & Distinctions
USC Honor Roll 2005-2012
R. Mohan Mathur Award for Teaching Excellence 2005
Nominated for Edward G. Pleva Award for Teaching Excellence 2008, 2009
Nominated for OCUFA Award for Teaching Excellence 2010