Mehrdad R. Kermani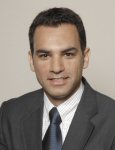 Associate Professor

Ph.D. The University of Western Ontario, (2005)
M.Sc. Iran University of Science and Technology, Tehran, Iran (1997)
B.Sc. Isfahan University of Technology, Isfahan, Iran (1994)

My Research Group
Mehrdad R. Kermani (Ph.D., P.Eng.) is an Associate Professor in the Department of Electrical and Computer Engineering and the director of Advanced Robotics and Mechatronic Systems laboratory at Western University. His research is focused on collaborative robots, agricultural robotics, human-centric technologies for robotics, robotic grasping, complaint actuators, and the use of smart materials as acturors and sensors.
He received his Ph.D. degree in robotics from The University of Western Ontario, London, ON, Canada in 2005. He was the recipient of the Natural Sciences and Engineering Research Council of Canada (NSERC)  postdoctoral fellowship award in 2005. He joined the Department of Electrical and Computer Engineering at Western University in 2006 where he is currently an Associate Professor.
Dr. Kermani is a member of Executive Council at Center for Planetary Science and Exploration (CPSX), a member of Institute of Electrical and Electronics Engineers (IEEE) and Robotic and Automation Society (RA), and a Professional Engineer (P.Eng.) in the Province of Ontario.