Q&A with Simon Hungate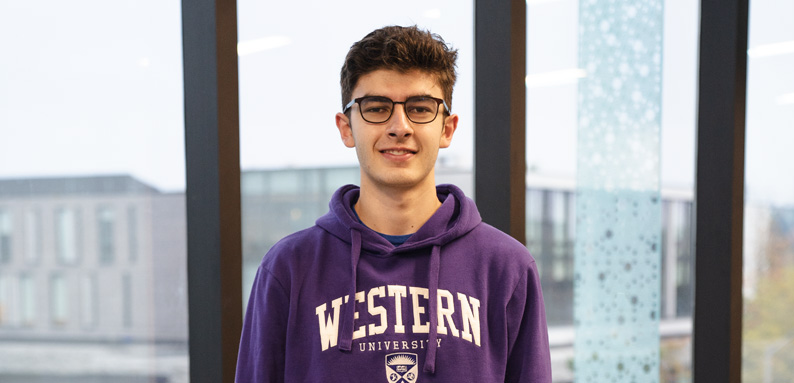 I think the community at Western, and specifically within the Faculty of Engineering, is what makes Western stand out.
Simon Hungate
First year Engineering
Simon is a student ambassador here to answer your questions. Click here to contact Simon.
What inspired you to choose engineering?
I was interested in both engineering and social science programs. In the end, I choose engineering because I believe that it will provide me with the tools and analytical mindset required to be a difference-maker in the future. Engineering opens a lot of doors and a degree in engineering can lead to a very broad assortment of career options. I also enjoy physics and calculus, so I felt that it was a good fit.
What was your orientation week experience like as a first-year student?
My orientation week was incredible! I was quite nervous coming in, but I found from day one that people were extremely friendly, and I think that I met more people in the first week than I had in all four years of high school. I participated in a lot of residence, general and engineering-specific events, and I found awesome communities in all three areas. It is an absolute whirlwind, transitioning away from home, and with so much happening at once, but Western definitely provides the support to make it a very positive experience!
Why Western Engineering?
I think the community at Western, and specifically within the Faculty of Engineering, is what makes Western stand out. The engineering curricula at most Ontario Universities is very similar, so it is very important to pick a university with a strong culture that fits you. Thus far, I have found the community here to be extremely collaborative and tight-knit. Often, I will sit next to new people in class and leave with new friends, and I have noticed that most people make a genuine effort to help one another. They say engineering is a team sport, and I almost instantly felt that I had a team of friends and colleagues to depend upon and help support. That aside, Western Engineering's general first year was a big draw for me, as I was very uncertain about which discipline was right for me. Lastly, I think the dual degree options offered at Western are extremely attractive, and are very powerful additions to an engineering degree.
How do you manage school related stress?
I am just starting my journey in Engineering, so take my advice with a grain of salt. With that being said, I'd suggest making sure to allocate some time every day to have fun or relax. For me, that time has been dinner. I always make sure to leave an hour for dinner where I just relax and chat with friends. Studying non-stop will become less and less productive, to the point that it is often more productive to just take a break!
What is your favourite book, movie or TV show?
My favorite TV show has to be Seinfeld. I really enjoy the dry humor and that there really is no point to the show – it is just pure entertainment. I have a rather amusing Seinfeld poster in my room, as anyone who comes into my room in residence can attest.
What do you like to do in your spare time?
In my spare time I enjoy playing card games. I'm a big bridge player – I like the mix of skill and chance. I'm very competitive, so I think I partly enjoy cards because I can attribute my loses to luck and my wins to skill.