Research
Western Engineering is committed to making the world a better place. Our academic programming and strategic goals have a strong emphasis on sustainability, improving the health-care system, mitigating the effects of natural disasters, and increasing diversity in the field of engineering. Learn more.
Shape the Future
"I wanted to be a part of Western's wind research team because of their reputation worldwide and to work in state-of-the-art facilities such as the Boundary Layer Wind Tunnel. It has been a unique opportunity to broaden my knowledge about how wind affects structures while gaining hands-on experience and improving my skills. The research I am currently working on could potentially contribute to the design of millions of buildings."
Matthew Vandewiel
Civil Engineering Student
By building models and testing them inside Western's Boundary Layer Wind Tunnel, Matthew's research is focused on the effect of wind loads on mid-rise buildings.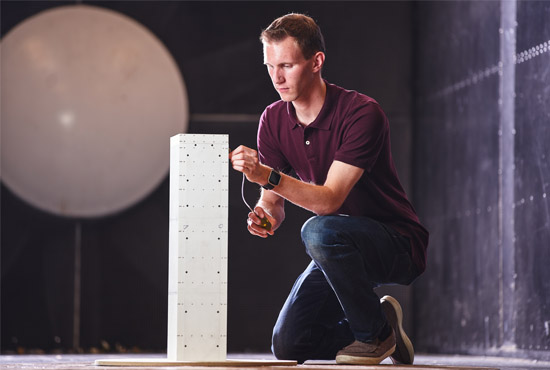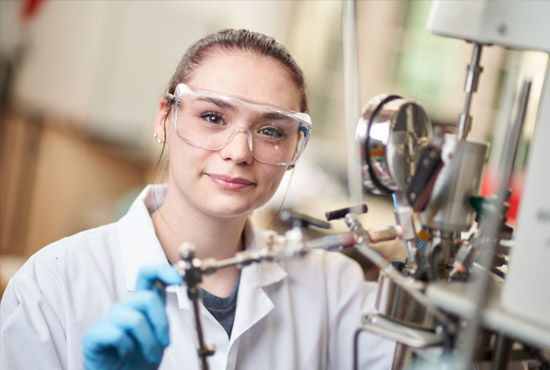 Make an impact
"I have often considered graduate studies as the next step for me after my undergraduate degree. Summer research is a great way to get a feel for what it would be like to pursue a Master's Degree or PhD and help me to make an informed decision."
Sarah From
Chemical Engineering Student
Sarah's summer research focuses on the conversion of biomass materials - processes that could be used in a "biorefinery" to replace fossil and petroleum feedstocks with plant-based materials.
Research with Impact
At Western Engineering, we conduct research directed towards benefitting society. Our leading-edge research provides the foundation for undergraduate learning and graduate student training. Engineering faculty members are actively involved in projects at the frontier of knowledge. Their expertise is brought to you in the classroom and is applied in industry every day.

As an undergraduate student, you will have ample opportunities to participate in research. For example, you could start the Accelerated Master's Program during your fourth year of study, allowing you to complete graduate courses in lieu of technical electives, which simultaneously satisfies requirements for your bachelor's degree and provides a head start on your graduate studies. The Accelerated Master's Program allows you to complete a Master of Engineering Science degree in just one year beyond your bachelor's degree.
Summer Research
Western offers multiple programs providing opportunities for undergraduate students to participate in research over the summer term. Our programming is designed to ensure that all students interested in conducting research will have the opportunity to do so. You can apply for research fellowships and awards such as the NSERC Undergraduate Student Research Award, Dean's Award or complete an internship or co-op with one of our leading-edge research centres and institutes, including the:
Boundary Layer Wind Tunnel Laboratory
Fraunhofer Project Centre for Composites Research at Western
Geotechnical Research Centre
Innovation Centre for Information Engineering
Institute for Chemical and Fuels from Alternative Resources
International Composite Research Centre
Particle Technology Research Centre
Wind Engineering, Energy and Environment Research Institute
---