Q&A with Myeesha Siddique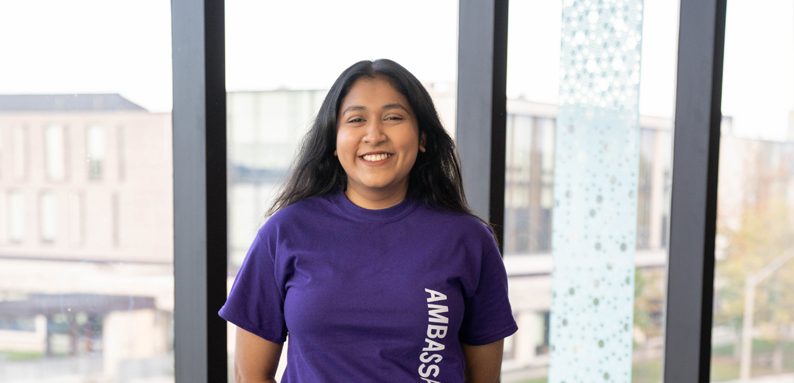 I choose Western because the campus felt very welcoming. I really liked that all the engineering buildings were connected and easy to get around. I also liked the idea of having a general first year.
Myeesha Siddique
Fourth Year Mechatronic Systems Engineering
Myeesha is a student ambassador here to answer your questions. Click here to contact Myeesha.
Why did you choose Mechatronics engineering?
At the beginning of first year, I was set on choosing Mechanical Engineering as my top choice of discipline. However, after taking physics and programming courses in first year, I realized I really enjoyed coding and electronics along with mechanical design. I also really liked the idea of gaining multidisciplinary skills and knowledge from Mechatronics Engineering.
Why Western Engineering?
I choose Western because the campus felt very welcoming. I really liked that all the engineering buildings were connected and easy to get around. I also liked the idea of having a general first year. It gave me a chance to explore various courses and gave me time to figure out what I liked and what was best for me. The Western Engineering community is very special. There is tons of support and resources available here to help me make my Western Experience the best possible.
Can you talk about your extracurricular activities at Western (clubs, teams, volunteer work, outreach activities, athletics etc.)? Why would you encourage students to get involved in extracurricular activities at Western Engineering?
Extracurriculars are probably the best way to make the most out of your university experience. It is a great way to meet new people and make friends as well as get hands on experience. I am part of the Undergraduate Engineering Society as the Professional Development Commissioner and as the Head Boilersuit. I am responsible for working under the Academic portfolio in organizing events to promote professional development.
I am also part of WECCA (Western Engineering Concrete Canoe Association) as the Research and Development (R&D) lead. I assist in hosting weekly meetings to work on research papers and design work. Engineering clubs are the best way to get real life experience as you get to apply the knowledge and skills you gain from courses.
I was also the President of the Bangladeshi Student Association at Western (BSAW). I led general and executive meeting and planned lots of cultural events. Being part of BSAW helped me meet more people from my culture and stay connected to our heritage.
Can you talk about your experiential learning experiences (co-op, internship, ELI, PEME, Global and Intercultural Engagement Honour etc.)?
After second year, I did a summer research in the Biomedical department. I was always intrigued by the biomedical field and being part of the research project gave me plenty of insights into the field. Currently, I am completing my 16th month co-op at Trudell Medical International, a medical devices company. I can apply my skills I have learned in school to solve real-world problems. I am also gaining a lot if valuable skills at my co-op which will help me become a better engineer. I highly recommend the co-op program that Western Engineering offers to every engineering student.  
Study tips for current/future students?
ORGANIZATION! ORGANIZATION! ORGANIZATION! I know it's easier said than done but being organized is the key. With all the assessments we get as engineering students, it is easy to fall behind or miss a couple but what I like to do at the beginning of each semester is to put down all the assessments I have into an excel file and sort them using the due date and that way I don't miss any and always have an idea of how much time I have left to get something done.
Taking advantage of Office Hours is very important too. Our professors are here to help us and they are very supportive and they will help you out whenever you need it. So REACH OUT!
Favourite study spot on campus?
Favourite spot would be a 50/50 split between the UES lounge and the 2nd floor lounge in the Amit Chakma Engineering building. What I love about these two spots is that almost every person there is most likely an engineering student, so you'll always find something is common with the person next to you.
What is your favourite quote?
"A Problem Well Stated is Half Solved" – Charles Kettering