Q&A with Meghan Langill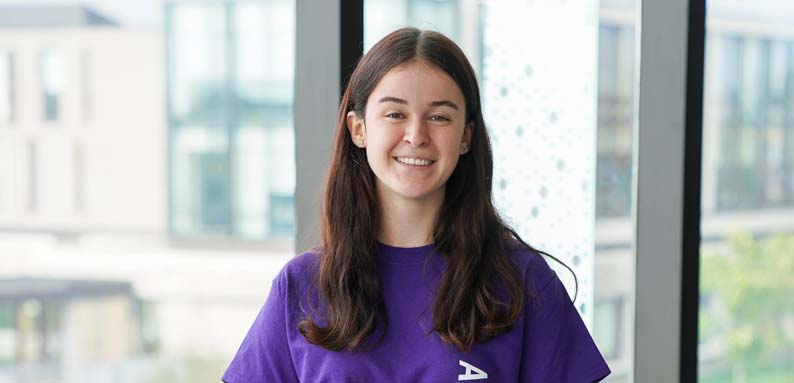 I found Western Engineering very appealing as it gave me the option to take a year to take engineering courses and get a better sense of what aspects of engineering fit best with my skills, but also which classes I truly enjoyed.
Meghan Langill
First Year Engineering
Meghan is a student ambassador here to answer your questions. Click here to contact Meghan.
Why Western Engineering?
When I was in grade 11, I came to Western to visit my friend's sister and to tour the school. At the time, my friend's sister was a few months into her first year of engineering here and being that I was considering engineering as an undergrad I made a point of asking her anything and everything about it. In our conversations, she mentioned everything from there being a strong sense of community in the faculty to there being a unique co-op opportunity that offers practical work experience and she also mentioned there being a lot of student support systems here.
To me I've always prioritized having a strong sense of community as it really makes the idea of change less frightening. Also being someone who is very unsure as to what I want to pursue in terms of a career, the co-op opportunity was fascinating to me as it offers us students an opportunity to get hands-on experience to see if engineering is the future path we want to take. Additionally, the idea of having my undergrad degree being more of a team effort as opposed to an individual one was another large reason as to why I was attracted to Western engineering. Knowing that I could rely not only on other students but also on the profs and undergraduate service team who truly care about the success of their students reassured me that the transition to university life could be facilitated.
Finally, when comparing Western Engineering to other programs I quickly realized that general first year wasn't something that was offered everywhere. It led me to question whether I would be ready to choose what type of engineering I want to pursue after having minimal knowledge of what was required to succeed in the different disciplines. As a result of this, I found Western engineering very appealing as it gave me the option to take a year to take engineering courses and get a better sense of what aspects of engineering fit best with my skills, but also which classes I truly enjoyed. Therefore, the general first year became one of if not the biggest selling point for me when it came to choosing a university.
How do you manage school-related stress?
When it comes to managing stress, I go one of two directions with it: I either play/listen to music or I exercise. Growing up sports were always a big part of my day-to-day life and therefore I learned how to take out my stress during practices or games. Some days I would find that the stress would tire me out and, in those situations, I would tend to go to music to remove myself mentally from the situation I'm in and give myself a proper opportunity to come back to my problems with a fresh perspective.
Can you talk about your residence experience?
For this year I was assigned to London Hall which is typically an upper year suite style room. Being that I had chosen to go into engineering, which is known for being time-consuming, I decided that for me it wouldn't be ideal to have a traditional double even though I wanted a roommate, so therefore I landed on the suite style room. For me this has been the best possible option as it gave me the opportunity to make immediate friends on campus and allows me to branch out and meet people from other faculties. A huge positive with residence is that you get assigned a soph for your floor. This soph typically lives on the floor and is there as a professional best friend. They can help you with anything from dealing with schoolwork to helping connect you to key resources or they can just be someone to talk to. Staying in res also has allowed for me to feel a lot more connected to the community and has given me that opportunity to meet all sorts of people I likely wouldn't have met otherwise.
Favourite study spot on campus?
My favourite spot would have to be the newly built engineering buildings because they offer so many different types of study environments. Personally, I am someone who thrives when surrounded by natural sunlight, so I am a huge fan of the architecture and design of the new buildings as they do allow for natural light to be utilized. Additionally, I'm a fan of them because they offer a range of types of rooms to study in. I am someone who benefits from working both individually and in groups so having buildings that facilitate both makes it easier to choose one spot as an ideal study location for all types of studying.
What is a fun cant about yourself?
A fun fact about me is that I love music. My parents always had me in music lessons from a young age to try to engage me in something besides sports. After having to do piano for a few years I switched to learning how to play the guitar. I learned how to play anything and everything from classic rock to blues to alternative and have even gotten the chance to play at pubs.