Q&A with Linah Al Hamour Al Jarad
Q&A with Linah Al Hamour Al Jarad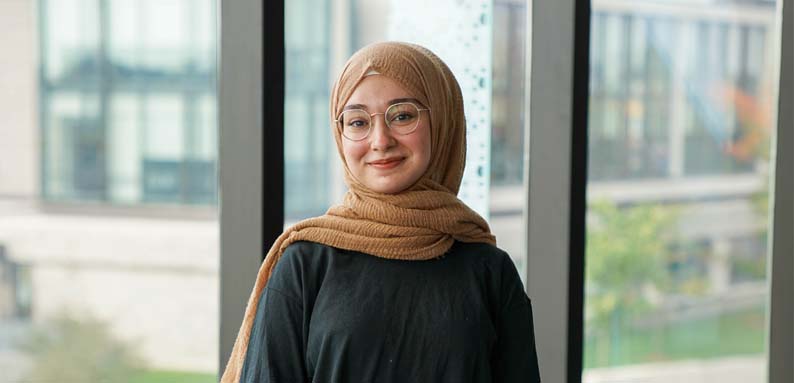 As a child, I enjoyed finding out how things worked, and engineering allows me to use that drive to solve problems and improve people's lives.
Linah Al Hamour Al Jarad
Fourth Year Software Engineering with Long-Term Co-op
Linah is a student ambassador here to answer your questions. Click here to contact Linah.
Do you remember when you decided you wanted to pursue engineering? What sparked your interest?
As a child, I enjoyed finding out how things worked, and engineering allows me to use my creative-thinking and problem-solving skills to help create innovative ideas and resolve obstacles in situations. My curiosity about technology pushed me to pursue Software Engineering as learning to notice different patterns when coding has always amazed me. I am deeply interested to know how things work and innovate something more efficient, especially as technology is always advancing.
Why Western Engineering?
I decided to choose the Western Engineering program because when I attended the March Break Open House as a high school student, I really admired the large, diverse student body and I recall how welcomed I felt when I first entered one of the Engineering buildings. In addition, I was very intrigued by the general first-year as it is a great way to be exposed to a broad range of engineering disciplines and can facilitate choosing the discipline that I wanted to pursue.
Can you talk about your experiential learning experiences (co-op, internship, ELI, PEME, Global and Intercultural Engagement Honour etc.)?
I am currently on a 16-month long-term co-op, which Engineering students can choose to take after the completion of their third year. So far in my co-op, it's been a great experience learning about what it feels like to be working in the tech industry and I have given a lot of thought about how I would like to proceed with my career from here. I found that you gain various new skills due to the responsibilities/tasks you have to perform on the job, that you would not have been able to pick up while studying in school!
How do you manage school-related stress?
The way I manage school-related stress is by taking breaks! It's easy to get caught up in doing schoolwork for long periods of time, but it's really important to take care of yourself especially during this time. I used to feel guilty for taking breaks, and then I found that when I'm under a lot of stress while studying and I decide to take a break (which can be by taking a walk, talking to a family/friend, taking a nap, etc.), I come back understanding the material more as I would be in a better headspace!
Study tips for current/future students?
I highly recommend using a planner to help you manage your time and prioritize your tasks! I was definitely surprised to see how much I can accomplish in a day when I carefully plan out time for each of my tasks. This is also a great way to build your time management and organizational skills, as these are very important skills to have as an engineering student!
What is your favourite quote?
"There is no better than adversity. Every defeat, every heartbreak, every loss, contains its own seed, its own lesson on how to improve your performance next time." - Malcolm X