Q&A with Belinda Sang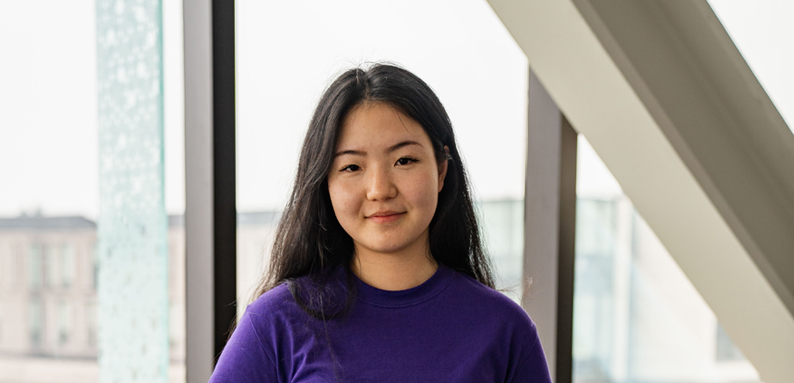 I found that Western Engineering is heavily focused on hands-on experiences and the supportive environment/spirt/atmosphere
Xiaoyuan (Belinda) Sang
Fifth Year Mechanical Engineering with Dual Degree in Computer Science and Long-Term Co-op
Belinda is a student ambassador here to answer your questions. Click here to contact Belinda.
What inspired you to choose engineering?
I picked Engineering because my dad is in this firm and inspired me to pick Engineering when I was a kid. Also, during my childhood I remembered that I enjoyed taking barbie apart to see what the structure looked like and how the body parts were connected, then I would do the hair and clothing, dressing up stuff for barbie. On top of that, Math and Physics makes more sense for me personally and interests me better than Literature.
Why Western Engineering?
I personally picked Western because Western University is the first school that came to Nanjing China for publicity. That showed a lot of commitment and effort from the school that made me feel like it is the school that I would like to join. On top of that, I found that Western Engineering is heavily focused on hands-on experiences and the supportive environment/spirit/atmosphere of Western Engineering.
Western Engineering offers a large variety of engineering clubs and a decent number of laboratories for technical courses where students could gain lots of practical knowledge that they can never learn from the textbooks, but are very helpful for future career paths.
Another highlight of Western Engineering is the "sophing" traditions and the "Engineering is a team sport" spirt. The school provides a strong, helpful environment. "Sophs" are upper-year students; they act as mentors for the first-year students to provide them tips and mental support to adapt into first-year university more easily. Everyone helps each other out with their studying and they share lectures, materials and notes too, which is another part of why I really enjoy studying at Western Engineering.
Can you talk about your experiential learning experiences?
I signed up for long-term co-op this year. I have gained large amounts of knowledge that I could never gain from the textbook. It helped me get access to my personal progress and achievements. With the long-term co-op experience so far, there are areas of improvement that I need to focus on and learning outcomes that I would like to hold on to. Moreover, I have developed new values towards personal growth by getting supervision from coworkers. Learning about their personal career choices and their experiences helped me have a clearer vision about my own long-term career goals and the benefits and influences of picking different careers path too. Overall, co-op is helpful for me to gain a lot of technical skills and soft skills.
Study tips for current/future students?
Most of the time school-related stress is because of heavy workloads and school assignments and not enough time to study. That makes us feel unprepared for the exams. What I would suggest is sparing 2 hours each day to focus on one single subject on top of your assignments and homework. I know it is hard, but in the future, multi-tasking skills are important to develop for your future job. Moreover, forming a study group with your friends, going to professor's office hours to get a better idea of what is covered in the exams and ensuring to do the practices exam or past exam questions given by your supervisor are the key tips I found that could help get a better mark.
What is your favourite quote?
"5 by 5 rule: If it's not gonna matter in 5 years, don't spend more than 5 minutes being upset about it.
What is a fun fact about yourself?
I do not believe in ghosts, but I am very terrified of them.