Q&A with Arsh Lalani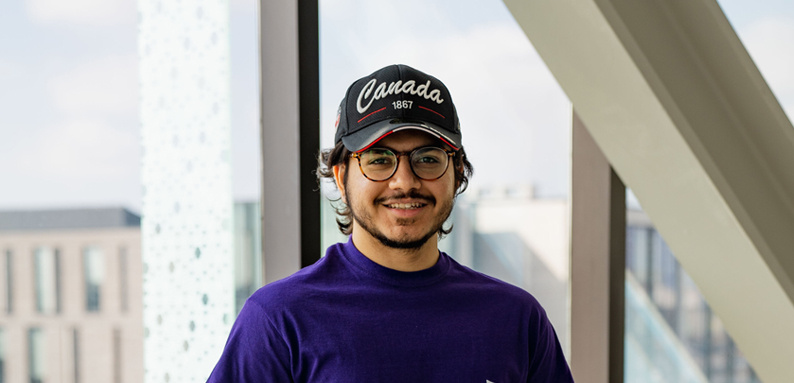 In my opinion, Western Engineering provides a unique holistic environment to its students that makes their experience unforgettable.
Arsh Lalani
Fourth Year Software Engineering
Arsh is a student ambassador here to answer your questions. Click here to contact Arsh.
Why did you choose Software engineering?
Coming to Western, I remember taking a Java course in my first year. This course was my first ever coding experience, and I thoroughly enjoyed the course. I was blown away by how much impact a few lines of code could make. I picked software engineering because it is very diverse. I knew going into software engineering, I will have multiple options within the program to explore and learn about before I eventually decide what I would want to do for my future.
Why Western Engineering?
Western Engineering has its own unique culture that makes the program quite incredible. When you enter the program, you are never on your own. Faculty members and other students are always there to support you at any point you get stuck during your program. There are ongoing events that happen within the faculty that students could participate in to keep up with their social life while balancing their academic responsibilities. Students could also get involved at various clubs and the Undergraduate Engineering Society to grow their behavioral skillset. Therefore, in my opinion, Western Engineering provides a unique holistic environment to its students that makes their experience unforgettable.
Can you talk about your experiential learning experiences?
Over my four years at Western, I did two summer co-op terms at London Hydro and Deloitte, respectively. The experience of being a co-op student for both companies was exceptional. I got the opportunity to meet some amazing people, grow as a professional, and make those lifelong connections. Personally, throughout the job search process, I had genuine support from various resources available at Western Engineering Career Services that helped me better put myself in front of the recruiters. Overall, my co-op experience was incredible as it helped me decide what career path I would want to pursue upon my graduation!
Favourite study spot on campus?
My favorite study spot is the third floor of Amit Chakma Engineering building where they have the study tables lined up against the glass wall. For casual studying, I enjoy sitting on couches on the second floor as well. Alternatively, the study tables next to the big fish tank in Claudette MacKay Lassonde Pavilion is another favorite study spot of mine.
Who do you look up to/admire why?
I look up to Lionel Messi, who is the 7th time Ballon D'or winner and the greatest player of all time, in my opinion. I admire him because his story is very inspirational. And being able to relate to his journey helps me push myself to the limits to achieve my goals!
What is your favourite quote?
"Do your Best and Forget the Rest" – Tony Horton