Q&A with Abbey Slawich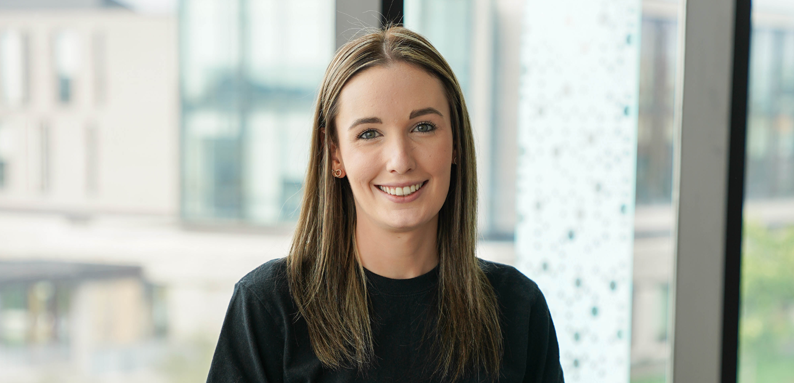 Here at Western everyone has a willingness to help each other out and an 'in it together' mentality
Abbey Slawich
Fifth Year Electrical Engineering with Long-Term Co-op
Abbey is a student ambassador here to answer your questions. Click here to contact Abbey.
What inspired you to choose engineering?
For as long as I can remember, math has been my favourite subject to study in school. When I began to explore the option of applying mathematics to solve real-world engineering problems I was fascinated. Another subject that I enjoyed throughout high school was Physics, so Engineering sounded like it was going to be right up my alley, and it was. Before entering my first year of Engineering at Western I was invited to a weekend called "ENG Squad." This was a weekend-long program for female students who had applied to Engineering at Western and have received or accepted offers of enrollment. This weekend was a great way to: make new friends, get a taste of the first-year design course by putting us into teams to solve an open-ended problem, get to know Westerns campus, tour Engineering labs, and to get a better understanding of all the Engineering related programs that Western had to offer. After attending this weekend, I knew without a doubt that I had chosen the right university and program for me.
What was your orientation week experience like as a first-year student?
Western Engineering offers outstanding flexibility and diversity in allowing you to tailor your engineering student experience to your interests and passions. Between nine different streams, optional co-op or internship opportunities, dual degrees with law or business, and the vast array of student clubs, Western Engineering provides you with opportunities to develop your interest in certain fields into applicable skills. The dual degree with the Ivey School of Business was a deciding factor in my choice to study at Western, and has been an experience that has greatly embellished my engineering experience.
Why Western Engineering?
The reason I chose to come to Western for Engineering is because of the sense of community I could feel when I came to Fall Open House. This is something that really stood out to me and I feel would really stand out to prospective students. It is hard to leave your high school and in most cases your family home to go away for university. So, giving future students a sense of belonging and home away from home helps make that decision much easier. Here at Western everyone has a willingness to help each other out and an 'in it together' mentality. When the going gets tough, this is what really helps keep you going. I feel as if this would be an effective thing to communicate to prospective students as it really helps keep you motivated to do your best.
Favourite study spot on campus?
My favorite study spot on campus is the new Engineering Building, Amit Chakma Engineering Building because you can choose from so many different study spaces. The new study spots are great for if you're working in groups or individually. The openness of the building also brings a sense of community because you can easily spot someone you know or meet new people. This also makes it easier to approach others for help if needed. Overall, if I have lots of work I need to get done, this is where I go.