Jagath Samarabandu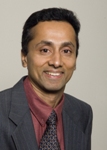 Professor

Ph.D. State University of New York at Buffalo
M.S. State University of New York at Buffalo
B. Sc (Eng) University of Moratuwa, Sri Lanka


Research Areas: Artificial Intelligence, Explainable AI, Machine Learning, Image Analysis, Cyber Security
Jagath Samarabandu received B. Sc (Eng) in Electronics and Telecommunication with first class honours from the University of Moratuwa, Sri Lanka in 1982.
He was awarded the Fulbirght scholarship in 1987 for postgraduate study at State University of New York at Buffalo. He received M.S and Ph.D. degrees in Electrical Engineering from SUNY-Buffalo in 1990 and 1994 respectively.
He held a post-doctoral position in the Dept. of Biological Sciences at SUNY-Buffalo untill 1997 and joined Life Imaging Systems Inc. as a senior software engineer in 1997.
He has been with the Department of Electrical and Computer Engineering at the University of Western Ontario since 2000.
Professional Activities
Member, Professional Engineers Ontario
Senior Member, IEEE
Honorary Senior Research Fellow, Arthur C. Clark Centre for Modern Technologies, Sri Lanka
Honorary Professor, Sri Lanka Institute of Technology, Sri Lanka
Program chair for IEEE International Conference on Information and Automation for Sustainability, 2012 and 2014
Track chair for Canadian Conference of Electrical Engineering (CCECE), 2012
Program committee member for IEEE Symposium on Computational Intelligence for Image Processing, 2007,2009