Jayshri Sabarinathan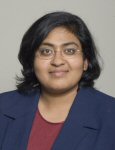 Associate Professor

Ph.D. University of Michigan, Electrical Engineering (2003)
M.S.E University of Michigan, Electrical Engineering (1999)
B.S.E University of Michigan, Electrical Engineering and Engineering Physics (1997)


Jayshri Sabarinathan is currently an associate professor at the University of Western Ontario in the Department of Electrical and Computer Engineering. She joined the University of Western Ontario in Fall, 2003 and received the NSERC University Faculty award (UFA) in 2004. She was promoted to associate professor in 2010.
She obtained her B.S.E in Electrical Engineering and Engineering Physics and her M.S.E and Ph.D. degrees in Electrical Engineering from the University of Michigan, Ann Arbor, in 1997, 1999 and 2003 respectively. Her Ph.D. research involved the demonstration of the first electrically injected quantum dot photonic crystal (PC) microcavity light source, novel two-dimensional PC-based microfluidic sensors and single-step epitaxial techniques to fabricate three-dimensional GaAs-based PCs. She has extensive nanofabrication experience working at the University of Michigan Solid State Electronics laboratory (SSEL) and the NSF funded Cornell Nanoscale Science & Technology Facility (CNF) and the Western nanofabrication facility.
She is a member of the Institute of Electrical and Electronics Engineers (IEEE), the International Society for Optical Engineering (SPIE), the optical society of america (OSA), the National Electrical and Computer Engineering Honor Society - Eta Kappa Nu (HKN) and, the Engineering Honor Society -Tau Beta Pi (TBP).