Go ENG Girl at Western University
What is Go ENG Girl?
Go ENG Girl is an exciting opportunity for Grade 7-10 girls, including all who identify as female, to learn about the wonderful world of engineering: "A Caring Profession." 
Participants are able to learn from female professionals, academics and students as well as enjoy fun, hands-on activities, informative parents' sessions and engineering student exhibits. Last year's event saw Western Engineering welcome over 110 Grade 7-10 girls and their families to the exciting career of engineering.
This year will look a bit different with the entire event moving online; however, we are working on a variety of ways to ensure that participants still get the same great experience.
2021 Go ENG Girl 
Go ENG Girl goes ONLINE will take place on Saturday, October 2, 2021 from 10am - 12:15pm. Join us for fun activities and a keynote speaker.
Registration:
Registration will open on August 16th, 2021. To register please visit the ONWiE wesbite.
All participants will need to complete the Code of Conduct form when registering through the ONWiE website. If you require an additional copy please click here
2021 Agenda: 
The 2021 Go ENG Girl Agenda can be found here
All participants will choose which activity they would like to complete: Emergency Backup Power or Scratch Colour Animation. You will receive a material kit for both activities so that you can complete the second at home. We ask that participants select an activity and a time to pick up their kit of materials from the Spencer Engineering Building through the following form.
The deadline to complete the form is September 13th, 2021. *note if you live outside of London your kit can be mailed to you.
2021 Keynote Speaker:
This year we are welcoming Michelle Moxley-Peltier as our 2021 Go ENG Girl Keynote Speaker.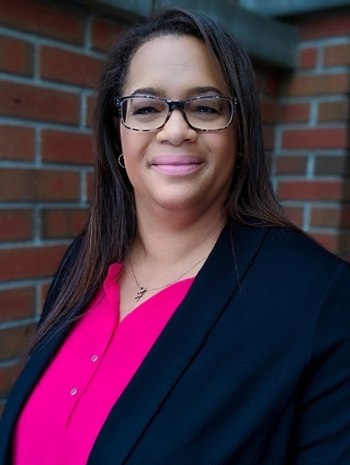 Michelle is a professional engineer with diverse experience in engineering and operations within the automotive and natural gas utility industries.  Throughout her career, she adapted to economic and corporate changes by accepting new opportunities which exposed her to other disciplines.  Her career path is somewhat unusual with positions in automotive controls, electric power generation, energy efficiency programs, construction, and infrastructure planning.  Michelle will share her engineering journey, and how life events can "encourage" you to make modifications to your plans.    
Personally, Michelle is a married mother of two teenagers ages 14 and 17, who volunteers for children's organizations like soccer, hockey (but can't skate), and Girl Guides of Canada.  She likes handicrafts and photography.
2019 Go ENG Girl Highlights
Curious what one of our Go ENG Girl events looks like? View photos from our 2019 Go ENG Girl. This year will look a little bit different, but we are looking forward to bringing you the same level of excitement and passion for engineering. Hope to see you there!