Go CODE Girl at Western University
What is Go CODE Girl?
Go CODE Girl provides an exciting opportunity for girls in grades 7-11 across Ontario to learn about the exciting world of coding and software development and discover opportunities in computing and engineering fields.
Why is this necessary?
Today, software forms the backbone of our interconnected and digital world. This includes everything from smart machines, to our communication systems to the cars we drive. Coding is the ability to read and write in a language that a computer can understand so that you can instruct a computer how to perform complex tasks. Learning to code can lead to increased digital confidence, a different way of thinking about problems and the ability to understand and use technology to help develop creative solutions in almost any discipline.
Go CODE Girl will educate, inspire and equip girls with the digital skills, confidence, and resources needed to pursue an education in technology, computing, and engineering. Careers in technology, computing, and engineering are the fastest growing industry.
2019 Go CODE Girl at Western Engineering
Western Engineering Outreach is looking forward to welcoming young women in Grades 7-11 to our fourth Go CODE Girl event. 
2019 Event date: March 2, 2019
Registration now closed: To open January 2019. 
Curious about Go CODE Girl? Check out our 2018 event details below. 
Event Agenda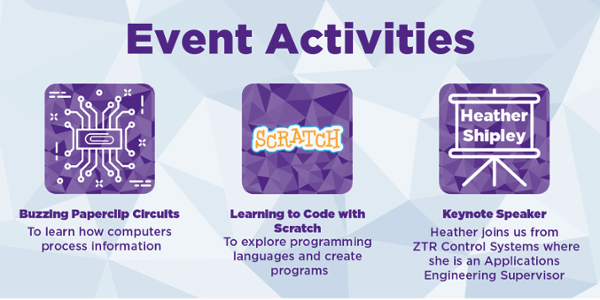 Keynote Speaker
Heather Shipley
Heather is the Industrial Internet of Things (IIoT) Application Engineering Supervisor at ZTR where she is responsible for all aspects of defining, designing and implementing remote monitoring production solutions. She works directly with the customer while supervising the internal development teams of application engineers, technologists and technicians.
Heather contributes to her community as a member of both the ZTR Community Giving and Community Engagement teams.
Previous to working at ZTR, Heather worked at Callisto Integration as a Design Engineer, where she developed and designed Manufacturing Execution Systems (MES) for factories around the world. 
While at Callisto, Heather was re-located to the UK and was responsible for Software Development and Project Management and contributed to growing the UK office.
Heather obtained her Bachelor of Applied Science in Electrical Engineering from the University of Waterloo.
---
Photos from 2018 Go CODE Girl 
Having trouble viewing this slideshow? Click here.