Graduate Research Program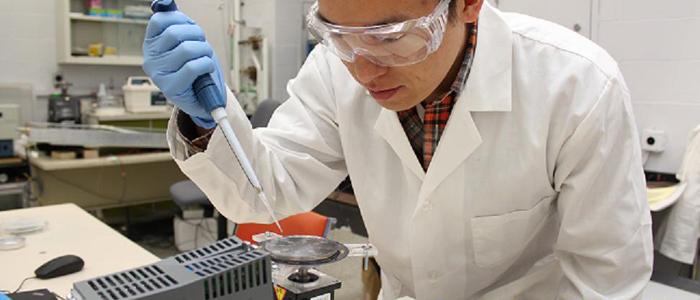 The goal of our graduate research program is to train MESc and PhD students for independent research in today's changing technological world in either industry or academia.  
Mechanical and Materials Engineering offers research intensive, thesis-based MESc (2-yr) and PhD (4-yr) programs, providing leading edge research using state of the art experimental and computational research facilities. The department has research strengths in diverse areas addressing present day challenges, as well as developing technologies for the future. Our two or four year program will provide a motivating training environment and an opportunity in conducting independent investigation, using developed analytical skills to produce highly capable professionals.
NEWS and EVENTS
Tengyuan Zhang Awarded Governor General's Gold Medal
For more than 140 years, the Governor General's Gold Medals have recognized the outstanding scholastic achievements of students in Canada.  They are awarded to master's and doctoral students who have achieved the highest academic standing in their degree program.
Dr. Tengyuan Zhang completed his doctoral degree in Mechanical and Materials Engineering in April 2018. Acknowledged as one of the distinguished graduates of the Beijing Institute of Technology, Dr. Zhang continued his path of excellence here at Western, winning the prestigious Vanier Canada Graduate Scholarship from NSERC. Dr. Zhang has done extremely innovative work with the fabrication of copper-based printed electronics, resulting in much higher performing technology for much lower cost than is currently available on the market.  Dr. Zhang is currently a Research Scientist and Associate Director of Western's Industry 4.0 Network (WIN 4.0).
Each year, SOGS recognizes the efforts of our extraordinary TAs who dedicate themselves to teaching and the educational experience of students at Western University with the Graduate Student Teaching Assistant (GSTA) Awards. Awards of $500 are presented annually to graduate students, divided equally across the divisions of the School of Graduate and Postdoctoral Studies (SGPS). Congratulations to our students Alicia Koo and Nolan Dyck; winners of the 2017-2018 awards.

If you are experiencing difficulty with the electronic application, please email gradapps@uwo.ca
or contact the dedicated phone line 519-850-2341